Top Story
Swinging back around to LA for the final leg of their "Pray for the Wicked Tour," Panic! At the Disco lit up the sold-out L.A. Forum Friday night with a high-energy, infe...
"How to Train Your Dragon: The Hidden World" lacks the heart and emotional scale found in the previous two entries of the franchise, but it's still a fun, beautifully animated adventure worth taking.
"The Front Runner" is a competently retold piece of history with some standout performances that doesn't outstay its welcome. It's just too bad it wasn't a bit more special.
After debuting at the Sundance Film Festival earlier this year, the trailer for the upcoming HBO Michael Jackson documentary "Leaving Neverland" got its first trailer.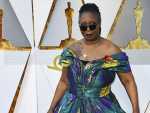 A tweet has sparked a wild theory that Whoopi Goldberg is the secret host of the 91st Academy Awards Sunday.
Chicago's top prosecutor recused herself from the investigation into the attack reported by "Empire" actor Jussie Smollett shortly after police requested another interview with the actor.