The Master
There have been rumors for some time that "The Master," John Paul Anderson's rich and mysterious new film, was based on incidents in the life of L. Ron Hubbard, the founder of Scientology. Like Hubbard, Anderson's Lancaster Dodd (Philip Seymour Hoffman) is a charismatic figure with an unusual belief system and a reliance on certain mind-control techniques. His is a cult; and his followers, white and middle-class, are eager, easy to persuade, and docile - a perfect storm of personality traits that blinds them to Dodd's often frightening methodology. The story is set in the decade following World War II only underscoring the rising tide of conformity that so defined the period. Scenes from the film look like Norman Rockwell paintings come to life; this is the idealized America today's Republicans long for.

Into this world comes Freddie Quell (Joaquin Phoenix), an unstable war veteran with an unbridled id and a penchant for a brew made from liquor, photo-developing solutions and other chemicals that no doubt contribute to his psychosis. When Phoenix begins the film humping the sand on a South Pacific beach, then masturbating into the ocean; it's pretty apparent that this isn't going to be "The Story of G.I. Joe." What it turns out to be, though, isn't so much an expose of L. Ron Hubbard as something of battle of personalities that made Anderson's last film "This Must Be Blood" such a riveting experience. Freddie meets Lancaster Dodd and there's an undeniable attraction (and not just for the joy juice that Dodd finds so addictive).
Not to suggest there's some sexual tension there. Clearly this isn't. What brings them together is a collision in temperaments. Dodd needs conformity; but Quell, with his mix of mental illness and macho bravado, is an unbridled free spirit; and Dodd needs to tame Quell in order to justify his methods. It's the ultimate test; and the pair wrestle in an exercise of psychological brinksmanship. When they spar, the film combusts with the potent blend of great acting and exacting filmmaking. Early on, Dodd performs an informal "processing" on Quell. These sessions - part hypnosis, part psychological manipulation - are the key to The Cause, the belief system that is on its way to becoming a movement; and Quell takes to it with a childlike wonder. When Dodd wants to end that first session, Quell insists they continue - he finds it fun.

That sequence, which mixes flashbacks of Quell's romance with a high school girl with Quell's answers to Dodd's questions, gets under your skin. Up to that point, "The Master" is a picturesque, if disconcerting portrait of a GI folding under the stresses of his wartime experiences. The causes of his psychotic outbursts are never defined - they only act as the bait for Dodd's obsession to change him. No one in Dodd's genteel following, including his frightening controlling wife Peggy (Amy Adams), his duplicitous daughter Elizabeth (Ambyr Childers) and his meek son-in-law Clark (Rami Malek), can understand their leader's fascination with Quell, even when he turns his transformation into a group effort.
The scenes where Dodd and his family push Quell to the edge are alarming in the extremes of the techniques used to break him. Yet Anderson's style is distant and cool throughout; he records the sessions in much the same way that believers in The Cause record every event in their lives - methodically and with little passion. It was critic David Edelstein who pointed out a Kubrick connection in Anderson's work; and like Kubrick, the movie is far too dense to take in one sitting. You want to see it again as soon as possible, not simply for the pleasures of narrative, atmosphere and inspired craft; but because the film is an enigma you want to better understand.

In these days when another compelling cult figure from the period - Ayn Rand - is finding voice in the national political discourse, what makes Anderson's fictive work so compelling is its attempt to better understand the seductive lure of ideologues. The director touched upon the nature of the personality cult in "Magnolia," in which Tom Cruise played a tough-love, self-help guru. It was Cruise's best performance (he was nominated for an Oscar); interestingly Anderson screened his latest film for Scientology's most famous member, who was said to have asked for changes. Anderson didn't make them.
Still while stories like that draw parallels to Hubbard and Dodd, the film is less about a particular cult than it is about than it is an impressionistic journey in the life of a psychotic drifter.
Anderson draws upon the look and feel of films from the period (even filming in 65mm, which was used for many blockbusters in the early 1960s). The result is rich, saturated color (the expert cinematography is by Mihai Malaimare Jr.); the period detail (by designers Jack Fisk and David Crank) has a lived-in authenticity; and an eerily effective musical score (the original music is Jonny Greenwood) beautifully amplifies the film's curious, creepy moods with atonal music in a style of the mid-20th century.

Much of the film's power comes with the fearlessness of the performances: Philip Seymour Hoffman embodies the contradictions, the charisma, the enormity of a person around whom a cult is built. Joaquin Phoenix is both volatile and oddly sympathetic as the out-of-control Freddie Quell; and Amy Adams plays the brains behind the mind-control with icy cold discipline. Like much of the film, her character exemplifies the duplicitous nature of Anderson's vision: when she's first shown, she's exemplifies the virtues of motherhood and family; but as the film continues, she morphs into a calculating polemic - the source of The Cause's ideology. Laura Dern shines in a brief role as a Dodd acolyte (said to be based on a Philadelphia socialite that helped L. Ron Hubbard in his early days). And isn't that Patti McCormack as the wealthy New Yorker that hosts an elegant dinner party for The Cause? Those with long memories will remember the actress as Rhoda, the demon child in "The Bad Seed," one of the 1950's most compelling melodramas.

There are many questions raised by "The Master," that might be answered by repeated viewings. But even if they're not, the beauty of Anderson's considerable achievement is the indelible first impression the film makes on the viewer. It is a great work of cinematic fiction - like a Joyce Carol Oates story imagined on film - that stays with you.
The Master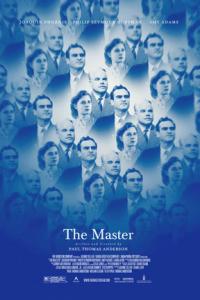 Freddie Quell (Joaquin Phoenix) is a troubled, boozy drifter struggling with the trauma of World War II and whatever inner demons ruled his life before that. On a fateful night in 1950, Freddie boards a passing boat and meets Lancaster Dodd (Philip Seymour Hoffman), the charismatic leader of a religious movement called the Cause. Freddie tries hard to adhere to Dodd's weird teachings and forms a close bond with his mentor, even as other members of Dodd's inner circle see him as a threat.
Info
Runtime :: 136 mins
Release Date :: Sep 21, 2012
Language :: Silent
Country :: United States

Cast
Freddie Quell :: Joaquin Phoenix
Lancaster Dodd :: Philip Hoffman
Peggy Dodd :: Amy Adams
Helen Sullivan :: Laura Dern
Val Dodd :: Jesse Plemons
Martha the Salesgirl :: Amy Ferguson
Frank :: Frank Bettag
Nana :: Leonida Bautista
Elizabeth Dodd :: Ambyr Childers

Crew
Director :: Paul Anderson
Screenwriter :: Paul Anderson
Producer :: Joanne Sellar
Producer :: Daniel Lupi
Producer :: Paul Anderson
Producer :: Megan Ellison
Executive Producer :: Adam Somner
Executive Producer :: Ted Schipper
Original Music :: Jonny Greenwood
Cinematographer :: Mihai Malaimare
Film Editor :: Leslie Jones
Film Editor :: Peter McNulty
Production Design :: Jack Fisk
Production Design :: David Crank
Set Decoration :: Amy Wells
Costume Designer :: Mark Bridges
Casting :: Cassandra Kulukundis

Comments on Facebook