Trouble With The Curve
You'd think working an entire career on set with Clint Eastwood, seeing him work with such precision, would teach you a thing or two about directing movies. Apparently not. First timer Robert Lorenz, whose spent his career producing and assistant directing for Clint, got a big coup in being able to cast the legend himself as the lead for his debut film (Clint had previously stated "Gran Torino" would be his last performance; he's since rectified that to say it was his last performance in a film he also directs.)

But he wastes it entirely; crafting the kind of harmless and safe drivel Clint would never waste his time with this - as far as directing goes, anyway. Luckily, star power can do a lot to turn drivel into decent entertainment.

Eastwood stars as Gus, an aging baseball scout whose tried-and-true ways are being challenged by the new school of statistics and computer tracking (call this the anti-"Moneyball" - it's like a movie from the point-of-view of the old fogies constantly mocked in that picture.) His sight is going quickly - cuts to his point-of-view seem to be shot with Vaseline smeared on the lens - and the rest of him isn't far behind. The film opens with him having a painful looking struggle in the bathroom, and it's downhill from there.
Enter Mickey, a stock neglected daughter type played by the wonderful Amy Adams (she gives the character all the lived-in qualities the script desperately lacks.) Sent by an overly enthusiastic (and overly grating) John Goodman to aid Dad on a scouting trip, she initially clashes with her oft-insensitive Pops.

But soon enough, everyone is making Very Important Revelations, having touching moments of reconciliation, and everything else the opening 10 minutes would lead you to suspect. So why didn't I hate it?
The fact is, despite the weak script, the non-existent direction, and the painful predictability, we believe these characters. Eastwood and Adams - and later on Justin Timberlake, as a player-turned-scout who has a history with the family - imbue their performances with the kind of pain and honesty that every other aspect of the production is missing.

Not to mention that, when the script calls for it, they're all totally hilarious - Clint hasn't always gotten better with age, but watching him threaten to beat other men to death definitely gets funnier on a year-to-year basis.
But the problem undeniably lies in the direction. This is a passable film, and thanks to the lead's overdose of charisma, it's sure to fulfill anyone looking for a fine night at the movies. But the mechanic nature of the craft - from the lazy, unexpressive camerawork to the way all the expected outcomes pile on top of each other one-by-one during what feels like a never-ending conclusion - kills any momentum dead. Even the script feels lazy. We sit through not one, but two extended date sequences between Timberlake and Adams, one of which features within it two individual dance sequences! It starts to feel like they're just killing time.

It's funny, but never for a moment exhilarating, or even exciting. It's pleasing, but never surprising. And if it weren't for the occasional reference to these things called "computers," it could easily feel like a product of 1940s Hollywood (only, you know, less sophisticated.) The trouble isn't with the curve, or with the Clint. It's with the direction.
Trouble With the Curve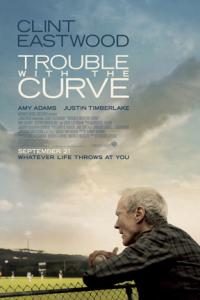 Info
Runtime :: 111 mins
Release Date :: Sep 21, 2012
Language :: English
Country :: United States

Comments on Facebook