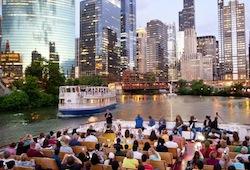 Shoreline Sightseeing
Chicago Illinois

Description
Chicago boat tours have been a staple of Chicago for over 70 years now, and we have had the pleasure of carrying generations of Chicagoans, as well as people from all over the world. Shoreline is thrilled and honored to be a part of the tourism industry in Chicago, and we are excited to be a part of this city for many years to come.

Since 1939 Shoreline Sightseeing has been offering Lake Michigan boat tours and architectural cruises to the city of Chicago, showing Chicago's amazing skyline.

Family owned and operated for over 3 generations, Shoreline has grown to be Chicago's most well-known company for Chicago boat tours containing a squadron of 11 water taxis and 9 touring vessels.

Shoreline Sightseeing was the pioneer for water taxis in Chicago, starting the trend in 1996. On the Chicago River the famous architectural cruises were started in 1999. In the timeframe between 1999 and 2003 additional touring vessels were brought into the fleet: Bright Star, Star of Chicago, and Evening Star. The Voyageur was added in 2006, and the Celebration in 2005.

Comfort and safety are the most important aspects to the Shoreline tours, and because of this, each vessel has been customized or custom built to suit these needs.

Private Charters are also available from Shoreline Sightseeing. Event planning is offered to help make special occasions easy while celebrating with us. We can help with a band or a DJ, and food and bar services. The boat that is commonly used for private events is the Celebration, which is a year-round vessel.