South Florida Gay News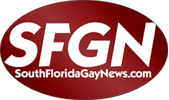 The South Florida Gay News.com celebrates the lives of South Floridians with daily news briefs and storied features, breaking news and lifestyle profiles. Check out their website at southfloridagaynews.com.
The legal issue before the court is whether sex between same-sex couples is actually intercourse under Florida statutes. Really.
Police popped a white supremacist porn actor for manufacturing and delivery of methamphetamine last week in Dallas.
On Sunday, an unidentified person threw a canister of tear gas into the gay night at a Croatian club. One day later, hundreds gathered in pro-LGBT protest.
This Black History Month, Nike has released a video promotion focused on bringing equality to the forefront.
Multiple sources are confirming the U.S. State Department intends to keep Randy Berry as the nation's special envoy for LGBTI people.
As the first "Pride" since the inauguration of President Donald Trump in January, Miik Martorell sees Pride Fort Lauderdale as the first opportunity for the local LGBT community to speak out.
Twenty-eight states have now enacted laws that allow or protect the medicinal and even recreational use of marijuana. Florida joined the fold in November. Still, pot is illegal under federal law; what will the Trump administration do?
A sergeant of the Fort Lauderdale Police Department was accused last year of putting his personal beliefs ahead of his department when an internal investigation found he attempted to derail the Mounted Unit's participation in June's Pride parade.
Do gay men go back into the closet when they're at work? Travis Speice, an assistant professor at the Christ College of Nursing and Health Sciences, spent four years asking this question and determined that they do.
The World AIDS Museum and Educational Center (WAM) announced that on March 8 they will be opening the doors of their new exhibit, "AIDS Crisis in America: 30 Years of ACT UP - A Convergence of Disease, Art and Human Resilience."