Top Story
Quick fixes may treat the symptoms, but never the cause... until now. GAINSWave technology is a major breakthrough.
1 thru 10 of 1583 Stories
A January trial date has been set in a lawsuit accusing a Louisiana sheriff of rescinding a job offer to an applicant who is HIV-positive.
Winifred "Winnie" Byanyima, a former Ugandan politician and the current head of the humanitarian group Oxfam International, was appointed the new executive director of the U.N. AIDS agency on Wednesday.
Police say a Georgia woman has been charged with a misdemeanor after she lied in a viral Facebook Live rant about being HIV-positive and intentionally infecting others.
A Georgia woman told police she lied about being HIV-positive in a viral Facebook Live rant in which she claimed to have intentionally infected others.
A Georgia woman who went on a viral Facebook Live rant claiming she was HIV-positive and intentionally infecting others is now being investigated by police.
U.S. drug overdose deaths had been most common in Appalachia and other rural areas in recent years, but they are back to being more concentrated in big cities, according to a government report Friday.
Health officials and AIDS advocates in San Francisco hope to expand the use of an effective HIV prevention drug with a new approach that requires fewer pills than the standard once-a-day regimen.
Are HIV-risk behaviors intimately tied to male power? A South African researcher examined this view and its impact on HIV transmission.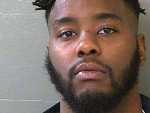 A Florida man has been sentenced to 10 years in prison for knowingly spreading HIV.
One seemingly indestructible HIV-like strain has earned the nickname "death star" due to the strain's reputation for killing off hopes for potential vaccines and immunotherapies. A team at the Scripps Research reports beating that challenge.
1 thru 10 of 1583 Stories