Gay Chicago: The Latest
In a tweet Tuesday, Netflix said it was "sad" that NBC was taking back the show but added it will still be on Netflix for the next year and a half.
The Dixie Chicks took the long way around, but they're returning with new music soon after a 13-year hiatus.
Megan Rapinoe has made waves recently saying she's not "going to the fucking White House" in a video interview. The comments sparked Twitter backlash from the President.
From the gym to mountain trails or the sea, having the right clothes are essential. These nine versatile pieces work outside the gym, too, perfect for running errands or lounging around.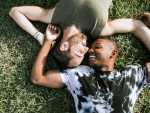 A new national survey has found that a majority of LGBTQ Americans are still afraid to show public displays of affection.
A Houston man spoke out after a server at a local restaurant described him on a receipt as "to go dude with dreads fat gay," news sources said.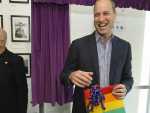 Britain's Prince William says it would be "absolutely fine" if one of his children came out as gay though he'd worry about how the public would respond.
Jack Tracy creates web series, films, albums, and now a podcast, all geared toward telling universal stories through an LGBTQ lens. Tracy's podcast, "Community," is a fictional series, but it feels all too real; Tracy tells EDGE all about it.
One of the biggest celebrations of LGBT pride in New York City history will culminate Sunday with not one, but two processions through the streets of Manhattan.
Monument Park has a new addition that celebrates diversity.
Alphonso David, a civil rights lawyer who has been serving as chief counsel to New York Gov. Andrew Cuomo, was named Tuesday as the new president of the Human Rights Campaign, the largest LGBTQ-rights organization in the U.S.
Chicago, IL
Coming off a production that garnered multiple Jeff Awards, The Artistic Home presents the Chicago premiere of Lauren Gunderson's "Ada and the Engine," a problematic play that, here, is carried well by two strong leads.
Adam Lambert is back with new music and is sharing the music video for his new song "Comin in Hot."
California has among the most stringent gun laws in the country and on Monday a far-reaching new initiative to curb violence will require background checks for every ammunition purchase.
For the first time in decades, NASA is about to open some of the pristine samples of moon rocks collected during the Apollo missions and let geologists take a crack at them with 21st-century technology.
The problems in health care are far deeper than just knowledge about hospital charges that few will ever pay.
A swath of western and central Europe is sweating under blazing temperatures, with authorities in one German region imposing temporary speed limits on some stretches of the autobahn as a precaution against heat damage.
Summer is time to chow down at a good old-fashioned American barbecue, but what about the vegans?
Doctors in Rome are warning of possible health hazards caused by overflowing trash bins in the city's streets, as the Italian capital struggles with a renewed garbage emergency aggravated by the summer heat.
From zip-lining and white water rafting to a robust LGBTQ scene, Spokane, Washington, is making its mark as a quaint West Coast getaway for queer travelers.
PrideFest took over Boystown in Chicago for two days on June 22nd and 23rd, leading up to the Pride parade the following weekend. Vendor booths, live music and unpredictable weather were all part of the rainbow of fun.