Top Story
By Sunday, Trump's Commerce Department is expected to issue an opinion on whether auto imports endanger U.S. national security enough to justify such import taxes. Trump would...
1 thru 10 of 12033 Stories
A French judge refused Monday to block the release this week in French cinemas of a movie based on a Catholic sex scandal.
Mitch Hungerpiller thought he had a first-class solution for mail that gets returned as undeliverable, a common problem for businesses that send lots of letters.
As if the worst year for stocks in nearly a decade weren't bad enough, many investors now have to pay a tax bill on top of it.
President Donald Trump is going after the "horror show" known as the diversity visa lottery program. His description of it is pure fiction.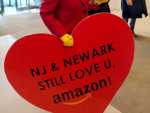 Amazon's breakup with New York was still fresh when other cities started sending their own valentines to the online giant.
Despite President Donald Trump's tough talk on trade, his administration has granted hundreds of companies permission to import millions of tons of steel made in China, Japan and other countries without paying the hefty tariff he put in place.
When California voters legalized marijuana, they were promised that part of the tax revenue from pot sales and cultivation would be devoted to programs to teach youth how to avoid substance abuse.
The billion-dollar Olympics are awash with cash. But volunteers work for free. That's the case next year at the Tokyo Olympics and Paralympics, where about 80,000 volunteers will be needed.
The average tax refund and the total amount of refunds issued declined for the second straight week, potentially intensifying a political flashpoint seized by Democrats as proof that the Republican-written tax law hurts the middle class.
A federal utility board voted Thursday to close a coal-fired power plant in Kentucky, rejecting pleas from President Donald Trump and U.S. Senate Majority Leader Mitch McConnell and handing the coal industry a defeat in its backyard.
1 thru 10 of 12033 Stories