1 thru 10 of 3079 Stories
Higher education is expensive. So is gender reassignment. But a scammer hit upon a way to have both for free... sort of.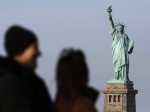 Majorities of Americans agree that diversity strengthens the country and that values such as constitutional rights, a fair judicial system and the American dream are key to the nation's identity. But the poll also reveals some striking divisions.
Florida dramatic arts teacher Monica Toro-Lisciandro says that the taxpayer-funded private Christian school where she taught a class fired her after school officials received a tip from an unknown caller that she is a lesbian.
WikiLeaks founder Julian Assange appeared in court Monday to fight extradition to the United States on charges of espionage, saying he needed more time to prepare his case.
A group representing Maine's lobstermen says it's now willing to work with the federal government on a plan to protect right whales after withdrawing its support for the plan this summer.
Hillary Clinton's scuffle with Gabbard and other recent headlines she's driven demonstrate that the 71-year-old remains a political lightning rod, just as she's been through much of the last three decades.
A man from the Hudson Valley region of New York is suing a gay porn company for selling his private information.
British Prime Minister Boris Johnson attempted for a second time to secure lawmakers' backing for his European Union divorce deal on Monday as Parliament geared up for a grueling week of political warfare over Brexit.
Some of the people rushing to emergency rooms thought the CBD vape they inhaled would help like a gentle medicine. Others puffed it for fun.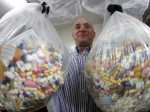 The case is about the conduct of a group of companies in two Ohio counties, but far more than that is riding on the first federal trial on the opioid crisis, expected to open Monday in Cleveland.
1 thru 10 of 3079 Stories