1 thru 10 of 2430 Stories
Authorities on the U.S.-Mexico border have distanced themselves from an armed civilian group that detains asylum-seeking families, but the United Constitutional Patriots have never been shy about saying they work with Border Patrol agents.
The nation's largest gun rights organization played a pivotal role in President Donald Trump's victory in 2016. Three years later, the National Rifle Association is limping toward the next election divided and diminished.
While consumers may think it's a "victimless crime" that only hurts big corporations, counterfeiting harms countless individuals as well, from sweatshop workers who toil without legal protections to consumers themselves.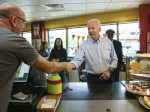 Biden aimed directly at Donald Trump in an announcement video seizing on the Republican president's response to the deadly clash between white supremacists and counter-protesters in Charlottesville, Virginia, two years ago.
Michigan must redraw dozens of congressional and legislative districts for the 2020 election because Republicans configured them to guarantee their political dominance over the last decade by unconstitutionally diluting the power of Democratic voters.
The emails showed how the president's oldest son had accepted a meeting with a Russian lawyer with the promise of receiving dirt on his father's opponent, Hillary Clinton.
A controversial proposal to increase housing near transportation and job hubs faces a key test Wednesday as California lawmakers search for solutions to the state's housing affordability crisis.
A Coast Guard lieutenant accused of stockpiling guns and compiling a hit list of prominent Democrats and network TV journalists looked at other targets: Two Supreme Court justices and two executives of social media companies.
Puerto Rico's governor pledged on Wednesday to lift the U.S. territory from a deep recession by creating more jobs, reversing a migration exodus and implementing a range of incentives as the island struggles to recover from Hurricane Maria.
Candor surrounding race is becoming what Democratic strategist Joel Payne called a "woke litmus test" for any white person who wants to win the Democratic presidential nomination.
1 thru 10 of 2430 Stories