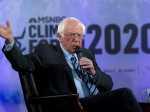 Bernie Sanders has released a major proposal to "end corporate greed and corruption" by requiring large companies to give ownership stakes to their workers.
It was a week of caustic rhetoric by President Donald Trump over Syria and the impeachment inquiry, and truth often took a beating.
From Minnesota to Vermont, at least five states and Washington, D.C., have done away with Columbus Day celebrations in deference to Native Americans, though the federal Columbus Day remains in place.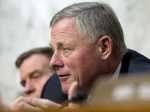 Top Republicans eager for a united GOP front will be eyeing retiring lawmakers for signs of cracking as Democrats' impeachment inquiry of President Donald Trump heats up. So far, there's no indication that the retirees are about to crack.
From Syria to Ukraine, new fault lines and tensions are offering the Kremlin fresh opportunities to expand its clout and advance its interests.
Poles were voting Sunday in a parliamentary election that the ruling nationalist Law and Justice party was favored to win, buoyed by the popularity of its conservative agenda and generous social spending.
A simple yes-or-no question keeps tripping up Senate Republicans: Should the president ask foreign countries to investigate political rivals?
A Christian radio co-host who is accused of repeatedly raping a girl at his church has hired as his defense attorney a man who later dated the alleged victim.
Since the end of the Obama administration, the number of Cubans deported from the U.S. has increased more than tenfold to more than 800 in the past year as the Trump administration enforces a new policy inked just days before it took over.
The European Union said Friday that talks with the U.K. to find an amicable divorce deal were back on track, despite huge challenges and a looming end-of-month deadline for Britain to leave the bloc.