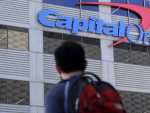 Lawyers for a transgender woman charged in a massive data breach at Capital One asked a judge Tuesday to release her from federal custody, saying that for her to remain jailed with men is a serious threat to her mental health.
A Southern California man who smuggled $11 million worth of erectile dysfunction drugs into the U.S. from China has been sentenced to more than eight years in federal prison for conspiracy and smuggling contraband.
If a handy machine is not in your bank's network, you could get a double whammy of fees. You can avoid paying ATM surcharges, however, with some prep work. Here are ways to get cash without the expense on your next trip.
Aiming to put his mark on the world map, President Donald Trump has talked to aides and allies about buying Greenland for the U.S.
The party that controls state legislatures will take a leading role in the once-in-a-decade redistricting process that redraws congressional maps. Republicans used that process to their favor following the tea party victories. Democrats want their turn.
The Taliban fighters arrived with hammers and hatred. What they left behind is laid out on tables at the National Museum of Afghanistan, 18 years later: Shattered pieces of ancient Buddha figurines.
The GOP has seen once-reliable suburbs turn competitive as women worry about their children's safety and bristle at Trump's harsh rhetoric on race and immigration, and they embraced Democratic alternatives in last year's midterm elections.
The U.S. has made secret contact with Venezuela's socialist party boss as close allies of President Nicolás Maduro's inner circle seek guarantees they won't face prosecution for alleged abuses and crimes if they cede to growing demands to remove him.
The Trump administration is aggressively pursuing economic sanctions as a primary foreign policy tool to an extent unseen in decades, or perhaps ever. Many are questioning the results even as officials insist the penalties are achieving their aims.
Police say a man accused of making what they believe was a threat to a Jewish center in Ohio on Instagram has been arrested on telecommunications harassment and aggravated menacing charges.