A flower shop owner in Washington State who refused floral arrangements for a same-sex wedding and was sued under state non-discrimination laws is looking to take her case to the U.S. Supreme Court for a second time.
Joe Biden is the Democratic front-runner. And there were moments in Thursday night's debate where he looked the part.
After a tentative settlement reached Wednesday with thousands of local governments and more than 20 states, the fight will be less about the damage done by the company and more over how to divide its assets.
The Trump administration said Tuesday that it is expanding hunting and fishing in 77 national wildlife refuges in a move that critics contend is deferring management to states and could harm wildlife.
President Donald Trump on Wednesday denied instructing an aide to urge a federal agency to repudiate weather forecasters who contradicted his claim that Hurricane Dorian could hit Alabama.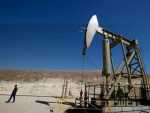 Several Democratic presidential candidates are running on a promise to ban fracking — and stepping on unstable political ground as they do so.
The British government insisted Thursday that its forecast of food and medicine shortages, gridlock at ports and riots in the streets after a no-deal Brexit is an avoidable worst-case scenario.
Republicans in Iowa and New Hampshire are vowing to hold a caucus and primary next year, even as party leaders in a handful of other states have canceled their contests to help smooth President Donald Trump's path to reelection.
Every top Democratic presidential contender is touting a detailed overhaul of the criminal justice system to end rules and practices that have been blamed for the mass incarceration of a generation of African Americans.
The California Senate has passed a bill that would give new wage and benefit protections to workers at so-called gig economy companies like Uber and Lyft.