Gay Chicago: The Latest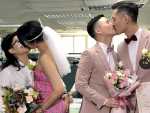 Hundreds of same-sex couples in Taiwan rushed to get married Friday, the first day a landmark decision that legalized same-sex marriage took effect.
A majority in Brazil's supreme court has voted to make homophobia and transphobia crimes like racism, a decision coming amid fears the country's far-right president will roll back LGBT social gains.
One of Jussie Smollett's conditions after posting $10,000 bail amid charges he lied about being the victim of a racist, anti-gay attack was that he have no contact with two brothers police say he paid to help stage the incident.
After some conservative Alabama probate judges stopped issuing marriage licenses over the issue of same-sex marriage, state lawmakers have come up with a workaround: marriage certificates that don't have to be signed before the wedding by the judge.
Sen. Elizabeth Warren calls Betsy DeVos the "worst secretary of education we've seen." Sen. Amy Klobuchar says DeVos "shouldn't be in her job." Beto O'Rourke's take on DeVos: "We can do better."
Sometimes even the president of the United States needs somebody to vouch for him.
Theresa May announced Friday that she will step down as U.K. Conservative Party leader on June 7, admitting defeat in her attempt to take Britain out of the European Union and sparking a contest to become the country's next prime minister.
Premiere queer global streaming network Revry presents QueerX, the 4th annual queer music, film, and industry festival, takes place from May 31st to June 2nd in West Hollywood, California, sponsored by Lexus.
Cinespia, LA's favorite summer event series, celebrates Pride with a screening of 'The Birdcage' on June 8.
A judge in Chicago has ordered the file in the Jussie Smollett criminal case unsealed.
A federal court has ruled that the husband of "Real Housewives of New Jersey" cast member Teresa Giudice can stay in the U.S. as he appeals deportation to his native Italy.
Chicago, IL
To close its thirty-first season, Strawdog Theatre Company has chosen a world premiere musical "Take Me" with a book by Mark Guarino and original music and lyrics by Jon Langford.
Time to blast off with Elton John's cinematic bio-pic now in theaters.
President Donald Trump has directed the U.S. intelligence community to "quickly and fully cooperate" with Attorney General William Barr's investigation of the origins of the multiyear probe of whether his 2016 campaign colluded with Russia.
A smartphone app developed by Japanese police is being widely downloaded by women trying to protect themselves from gropers on packed rush-hour trains.
You won't pay for health care in retirement with one lump sum. That's the way these expenses are often presented, though, and the amounts are terrifying.
One out of six Uber and Lyft drivers in the New York City and Seattle areas are driving vehicles with outstanding recalls, according to Consumer Reports.
Rihanna, the first black woman in history to head up a major Parisian luxury house, is unveiling her first fashion designs for Fenty at a pop-up store in Paris.
The year is not half over, and the number of measles cases has now exceeded highs not seen since the U.S. was declared measles-free in 2000.
For kicks and giggles, head to pastoral Chautauqua County to discover the Chautauqua Institution and Jamestown's National Comedy Center.
The annual GLSEN Respect Awards were held at Cipriani 42nd Street to honor the work of student leaders, educators, community organizers, influencers, and corporations who serve as exemplary role models and have made an impact on LGBTQ youth.