Gay Chicago: The Latest
On Monday's episode of "The Talk," singer Marie Osmond revealed that there was a point in her life during which she thought she might have been gay. Her comments were in response to Miley Cyrus' eyebrow-raising tweets on being gay from last weekend.
Police in Santa Clara, CA were called to Wilcox High School Monday to investigate a case of homophobic bullying allegedly targeted towards a male cheerleader. Read more on the developing story here.
This year's Come Out With Pride celebration was so huge, that we just had to post part two.
A St. Louis County police sergeant has testified that he was told to "tone down his gayness" to secure a promotion to lieutenant.
These days, you can watch a Broadway musical from a subway train seat. You can get your stage fix at your local movie theater or hear a play while jogging.
24 years ago singer/songwriter China Forbes was contacted by her college friend Thomas Lauderdale about joining his new band. Today she is still with the band. EDGE spoke to Forbes recently about her career.
A gay man who is proud to support President Donald Trump spoke with San Francisco's KRON4 news station about waring his red "Make America Great Again" hat in the Castro, the city's gay neighborhood.
A North Carolina gay couple allege that a group of men who appeared intoxicated and claimed to be police officers pinned them to the ground and falsely accused them of theft - and local officers let them drive away free.
Scientists have found the strongest evidence yet that a virus is to blame for a mysterious illness that can start like the sniffles but quickly paralyze children.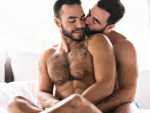 Popular culture overflows with sex, from cinema to advertising to, yes, even politics. And for many, sex represents one of the most intimate forms of human connection.
The "female" - or "Venus" - sign that graces packaging for Always brand sanitary pads is set to be dropped after transgender activists questioned use of the gender-specific symbol.
Not just another love story anchored in the pains and miseries of coming out as different in a place and time where difference is punished, "To the Stars" promises us something a little different and a little unexpected - and delivers.
China on Wednesday accused the U.S. of having "weaponized" the issuance of visas following the reported inability of a top Chinese space program official to obtain permission to travel to a key conference in Washington.
Google said it has achieved a breakthrough in quantum computing research, saying an experimental quantum processor has completed a calculation in just a few minutes that would take a traditional supercomputer thousands of years.
Consumers will have more health insurance choices next year under the Obama-era health care law and premiums will dip slightly for many customers, the Trump administration announced Tuesday.
The Tokyo Motor Show opens this week with plenty of futuristic technologies but absent one of the auto industry's hugest influencers: Nissan's former Chairman Carlos Ghosn.
Results reveal a growing appetite for plant-based meat among consumers, especially millennials and Generation Z.

Out actor Luke Evans took to Instagram Monday to celebrate that he can "finally" see his abs, sharing a shirtless workout pic to his 2.3 million followers.
It takes four missed work deadlines, five grumpy mornings, and six nights in a row of poor sleep for the average American to finally realize they need to take a vacation, according to new research.
What a beautiful day for a celebration! The crowds came out to show their Pride and to support the LGBTQ community as they enjoyed this year's Come Out With Pride.