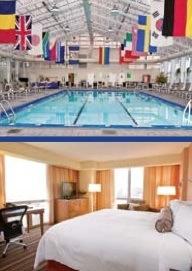 Chicago's Essex Inn
800 South Michigan Avenue
Chicago Illinois 60605

Description
Chicago's Essex Inn is a hotel in downtown Chicago on the Michigan Avenue Cultural Mile that combines breathtaking panoramas of Grant Park, the Museum Campus and Lake Michigan with exciting promotional Chicago hotel packages that incorporate famed attractions and events in Chicago.

These affordable, year-round packages for the city's most popular cultural, sporting and entertainment events can include Chicago football game packages, special museum exhibit packages, packages built around plays or musicals, holiday shopping packages and more.

From our steel and glass lobby to contemporary rooms with floor-to-ceiling windows to an all-season rooftop pool, the Essex Inn offers amazing views and amazing value.

The sights from our rooftop deck will leave you weak in the bare knees. Fortunately, our fitness center-complete with modern treadmills, lifecycles, weight machines and free-weights-will help you regain your strength. Whether you work yourself into a tizzy over exercise or seeing the beautiful sailboats on Lake Michigan, not to worry-simply turn from the balcony and stroll to the pool. It's big. It's cool. And it's next to a lovely sauna.

Swimming Pool
Our all-season rooftop pool with views of Lake Michigan is located on the fourth floor. Towels are available in the pool area. Children under 16 years of age must be accompanied by an adult. A lifeguard is on duty at all times.

Sauna
Unwind in our dry sauna, located on the west side of the pool deck.

Fitness Center
Our complimentary 1,350-square-foot fitness center is located on the fourth floor and features modern treadmills, lifecycles, elliptical machines, weight machines and free-weights. While working out, hotel guests can watch any of the six available televisions. Please contact the hotel for the current hours of operation.

Rooftop Garden
Our lovely Rooftop Garden overlooks Grant Park and Lake Michigan and is located just outside the pool.

Business Center
Located on the first floor, across from the front desk, the business center is open 24 hours a day and equipped with desktop computer workstations, high-speed (for a fee) Internet access and a printer. A copier with supplies is also available for use.