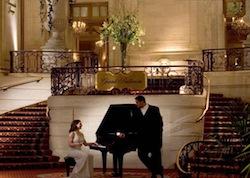 Hilton Chicago Hotel
720 South Michigan Avenue
Chicago Illinois 60605

Description
Experience This Legendary Downtown Chicago Hotel Near Grant Park

Conveniently situated on South Michigan Avenue, with picturesque views of Grant Park and Lake Michigan, Hilton Chicago has been the Windy City's foremost address since 1927. Step into the meticulously redesigned lobby of our impressive hotel and marvel at an ambiance both intricate and grand. Relax in well appointed Chicago accommodations. Dine in intimate restaurants. Enjoy over 234,000 square feet of exceptional conference facilities. Delight in the ideal location of our exceptional downtown Chicago hotel. Move throughout the city with ease, as virtually everything to do or see is a mere stroll or short cab ride away.

~ Located on South Michigan Avenue, overlooking Grant Park and Lake Michigan
~ An easy stroll to many of the Windy City's most famous cultural attractions, including the Art Institute, Field Museum, Auditorium Theatre, Orchestra Hall, and more
~ Luxury hotel near McCormick Place, one of the nation's largest convention and exhibition center
~ Only 11 miles from Chicago Midway International Airport (MDW)
~ Just 18 miles from Chicago O'Hare International Airport (ORD)

Experience the timeless allure of Hilton Chicago. Restored to its original grandeur, this cherished landmark truly expresses the quintessence of luxury. Book your exceptional downtown Chicago hotel reservations online for Our Best Rates Guaranteed.