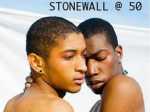 To mark the 50th anniversary of Stonewall, Drexel University presents an exhibit of 60 Philadelphia-based LGBTQ artists in celebration of the event. EDGE spoke to curators Janus Ourma & David Acosta about the event.
The massive skeleton is the culmination of a decades-long quest by the National Museum of Natural History to acquire a rare and coveted T. rex skeleton
Bernie Taupin is known for his longtime musical work with Elton John, but the British songwriter's visual artistry is stepping into the spotlight through an art exhibit.
Five new murals are up or going up in New Orleans, within walking distance of each other. Organizers say it's the first phase of a project to bring the vibrancy of the city's art scene outside gallery walls.
Edge caught up with Dale Allen-Rowse, aka The Quilting Cowboy, to catch up on his new business and find out the story behind his intriguing persona.
The creator of a photo exhibit of Holocaust survivors in Austria expressed dismay Tuesday that his portraits were slashed and daubed with swastikas in three attacks this month, but said the vandalism serves to emphasize why the show is important.
Political issues that excite newsprint, the airwaves and social media are getting a very open airing at the 58th Venice Biennale contemporary art fair, like so much laundry hung out to dry in the lagoon breeze.
The history of Hollywood's famous private eye vanishes in invisible ink, while the stories of real-life spies and modern-day espionage take center stage.
The home of "Evita" has been restored and turned into an interactive museum to mark the 100th anniversary of the birth of the iconic first lady.
A same-sex Los Angeles couple was dumbfounded when Homeland Security agents showed up at their home in 2016 with the news that a beloved old portrait hanging in their kitchen had been looted by the Nazis from Poland's National Museum during World War II.