Transfinite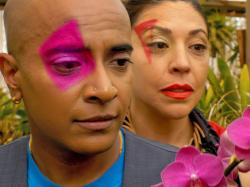 "Transfinite" is a sci-fi film anthology with seven shorts by writers that are trans and queer. Additionally, quite a few of the actors also identify as trans or queer or both. Filmed in the San Francisco Bay area, there are quite a few unavoidable landmarks such as the BART as well as different streets in The City. With colorful animated transitions and a pleasant, punchy ambient soundtrack, the shorts are occasionally awkward, but well-intentioned. The primary premise that connects the shorts are a beautiful hypothetical question: What if trans folks had superpowers?

Each individual piece features a specific trans person with a particular power. I would love to see Marvel produce anything like this, but I also know that we don't live in that world. Imagination, in this sense, is necessary. We have so few trans artists getting hired to play large roles, to write scripts or produce any media, that this kind of production, which brings together and centers trans and queer perspectives - and also people of color more generally - is not something that exists yet. In that sense, I do celebrate the intentions and the hard work behind this.

Despite the occasional violence and adult themes, not every scene is dire, and the majority of the shots are gorgeous and filled with light. There is trans and colored joy here, which sits in large contrast to how trans folks of color are typically portrayed. In "Transfinite," trans folks are romantic leads, heroes and supporting cast members. At under an hour, even if one of the trans heroes is not to the audience's taste, five to ten minutes later there is another trans person to refocus on.

There are some Bay Area tropes and stereotypes. If one is not familiar with the not quite hippies, very relaxed and yet aggressively polite folks of Northern California, a lot of the writing and acting in some of the scenes can be cringe-inducing. Magic realism presents more in some stories than in others, and there is a lot of expectation that the audience may instantly understand a reference which, in truth, may or may not be easily understood. It is a pleasant effort and a good showcase for the cast and crew.
Transfinite
Supernatural trans people from various cultures use their powers to protect people.
Info
Runtime :: 70 mins
Language :: Silent
Country :: United States

Noe Kamelamela is a reader who reads everything and a writer who writes
very little.

This story is part of our special report titled "aGLIFF 2019." Want to read more? Here's the full list.
Comments on Facebook