Annabelle Comes Home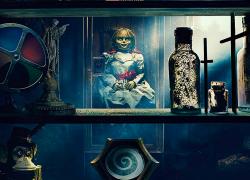 Now available digitally!
- - - - -
It's curious that the first spinoff series from "The Conjuring" franchise has already reached trilogy status before "The Conjuring" has even had its third installment. However, what's not curious is that where "The Conjuring" films have been a bit more solid both in script and direction, the "Annabelle" trilogy has been haplessly hit or miss.
While the first "Annabelle" was a hit (though a critical failure), the history of the cursed doll got its own origin story with "Annabelle: Creation," which was skillfully directed by David F. Sandberg of "Lights Out" fame. Based on characters created by writer Gary Dauberman ("It," "The Nun"), and based on the doll first seen in "The Conjuring," along comes "Annabelle Comes Home" — a sequel that brings the demonic doll to the home of the Warrens (played in brief appearances by Vera Farmiga and Patrick Wilson).
In the first film, we were introduced to the doll in the '60s and how it affected a bored doll collector. In the second film, we went back to the '40s to find out how the doll was cursed and how it affected a gaggle of orphans. In this new film, we are back to the late '70s with our beloved Warrens taking the doll back to their home and storing it in their room of cursed objects. The doll is put in a blessed case with a sign stating not to open the case under any circumstances. The case is also marked by a "devil" tarot card, which doesn't make a lot of sense since the devil card symbolizes change, not the devil himself. But, no matter, not much makes sense in the world of "Annabelle."
Where "The Conjuring" films attempt to be coherent, the "Annabelle" films feel a little schlocky and haphazard. Since seeing a doll run around killing people would seem silly (hi, Chucky!), instead Annabelle the doll is a conduit for a demon that wants to possess a human. So, basically, scary random things happen when Annabelle is around, but the doll itself doesn't do much but arbitrarily appear in new locations, seemingly on its own.
After the Warrens have the doll blessed and locked away, they take off for a new investigation, leaving daughter Judy (Mckenna Grace) with teenage babysitter Mary Ellen (Madison Iseman). Of course, Mary Ellen has the stereotypical obnoxious best friend Daniela (Katie Sarife), who never does what she is told; before you know it, she's gone into Warren's room of cursed objects and put her hands all over everything despite the "DO NOT TOUCH" signs everywhere. She has her reasons which, to Dauberman's credit, make her a more well-rounded character than one might expect. But what she unleashes is a hodgepodge of "scary" things that just do stuff to do stuff with no real reason or motivation.
It's never clear if Annabelle is responsible for unleashing all of the cursed object's curses and, if so, what the point is. Is it to scare our heroines to the point they are weak and a demon can possess them? Or is it just so that the studio can have a funhouse of various creeps to scare their audience? As it stands, there is a creepy Ferryman, a woman in a cursed wedding gown, and a werewolf. None of these apparitions are fleshed out or explained with more than a one-liner, so watching "Annabelle Comes Home" is equivalent to watching a best-of compilation of all of the ghosts and monsters from an entire season of "Buffy the Vampire Slayer."
In his directorial debut, Dauberman conjures up a decent sense of dread, but the long shots and long takes tend to test the audience's patience. Nothing is terribly scary (not even the few jump scares), and why things are happening is never explained well enough to understand why we should be worried about our main characters. The film just sort of washes over you with some interesting imagery and cliché tropes we've now seen ad nauseum in this franchise and beyond.
What Dauberman does well with his script is create some charming moments with his characters, including a boy named Bob (Michael Cimino) who has a crush on babysitter Mary Ellen. Bob is adorable and lights up the screen with his awkwardness, bringing the movie temporarily alive. Even Daniela's tragic backstory is used effectively, garnering a few genuinely emotional moments.
It's too bad that the more interesting aspects of this real family aren't explored more. Judy's bullying at school because her classmates discover what her parents do for a living is compelling, and I wanted to know more about how she dealt with that both at school and internally. It's got to be weird to live with that, and it's something that could be explored in its own film.
As it stands, "Annabelle Comes Home" is a fairly "meh" affair that doesn't add much to the Annabelle story and only adds small pieces to "The Conjuring" storyline. The franchise has always been a bit overstuffed with extraneous supernatural characters, so I hope they start to rein in their Universe. Quite frankly, the werewolf was the most interesting part of the story, but it was barely explained. I didn't need a spooky wedding dress or a Ferryman we barely see.
Not to mention, Annabelle might have come home, but she kept hiding under covers or lying under couches. So, despite the movie's title, it was easy to forget she was the star. Perhaps it should have been called "Annabelle Takes a Nap While Her Friends Run Wild."
Annabelle Comes Home: The IMAX 2D Experience
Determined to keep Annabelle from wreaking more havoc, paranormal investigators Ed and Lorraine Warren lock the possessed doll in the artifacts room in their house. But when the doll awakens the room's evil spirits, it soon becomes an unholy night of terror for the couple's 10-year-old daughter, her friends and their young baby sitter.
Info
Runtime :: 106 mins
Release Date :: Jun 26, 2019
Language :: Silent
Country :: United States

Cast
Lorraine Warren :: Vera Farmiga
Ed Warren :: Patrick Wilson
Judy Warren :: Mckenna Grace
Mary Ellen :: Madison Iseman
Daniela Rios :: Katie Sarife
Bob Palmeri :: Michael Cimino
Bee :: Samara Lee
Nurse :: Kenzie Caplan
Nurse :: Sade Katarina
Cop :: Michael McGill
Young Woman in Car :: Brittany Hoza
Cemetery Ghost :: Sheila McKellan
Truck Driver :: Eddie Fernandez
Father Gordon :: Steve Coulter
Anthony Rios :: Luca Luhan
Ghostly Priest :: Gary-7
Mr. Palmeri :: Paul Dean
Mrs. Faley :: Alison White

Crew
Director :: Gary Dauberman
Screenwriter :: Gary Dauberman
Producer :: Peter Safran
Producer :: James Wan
Executive Producer :: Richard Brener
Executive Producer :: Dave Neustadter
Executive Producer :: Victoria Palmeri
Executive Producer :: Michael Clear
Executive Producer :: Michelle Morrissey
Executive Producer :: Judson Scott
Cinematographer :: Michael Burgess
Film Editor :: Kirk Morri
Original Music :: Joseph Bishara
Production Design :: Jennifer Spence
Costume Designer :: Leah Butler
Casting :: Rich Delia

Kevin Taft is a screenwriter/critic living in Los Angeles with an unnatural attachment to 'Star Wars' and the desire to be adopted by Steven Spielberg.
Comments on Facebook