Watch: The Wild 'Cats' Trailer is here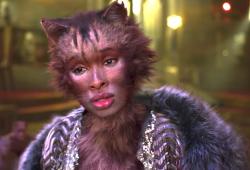 The first official trailer for the live-action film version of the musical "Cats" has hit the Internet.

Starring Taylor Swift, Jennifer Hudson, Judi Dench, Ian McKellen, Idris Elba, James Corden, Rebel Wilson, Jason Derulo and many more, the film adaptation of Andrew Lloyd Webber's Broadway hit is directed by Tom Hooper ("The King's Speech," "Les Miserables") hits theaters this winter.

Swift, a noted cat fan, shared the trailer on her social media accounts Thursday evening.





Check out the trailer below.
Comments on Facebook