Watch: Adam Lambert Shares New Music Video for song 'Comin in Hot'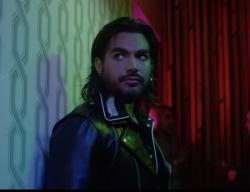 Adam Lambert is back with new music and is sharing the music video for his new song "Comin in Hot."

The video and song is a followup to his first single "New Eyes," which he released back in May. The songs are from his upcoming album "Velvet," which is due in September.

Directed by Miles & AJ, the funky and soulful "Comin in Hot" follows Lambert in a purple-neon club full of super sexy partiers. Also in the video is performer Miss Shalae, who has supernatural powers and watches the "American Idol" star.

Lambert recently opened up about being an openly gay singer in the music industry.

"There are always going to be shades of homophobia — sometimes internalized homophobia that I've encountered from other gay people in the industry. They might feel that [I am] 'too gay.'"

Click here to read more about that.

Watch the video below.
Comments on Facebook