Dear Evan Hansen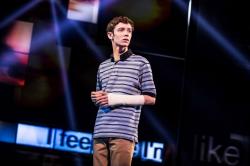 Few musicals bond so immediately with its audience as "Dear Evan Hansen," the sensational musical that has developed into a cultural sensation. That happens when the title character — a geeky 17-year old typing on his laptop (Ben Levi Ross) — relates his failed attempt to speak to a girl he crushes on in an agitated, non-stop torrent of words aimed at a friend online. Even before he sings, Ross has the audience in his corner; and when he does (with "Waving Through a Window") it is difficult not to feel a lump in your throat for lonely Evan.

There are plenty of such moments over the course of the musical — which won the Tony for Best Musical two years ago and made a star out of its first Evan, Ben Platt — as Evan's story unfolds. There is also a sense of unease due to the deception that Evan stumbles into involving the suicide of Connor Murphy, a troubled peer who happens to be the brother of Zoe, the girl he is crushing on. Evan passes as Connor's best friend, due to a letter written to Evan found on the dead boy's body that offers an explanation for his motives. Except Connor didn't write the letter — Evan did as part of an exercise with his therapist that Connor stole. But Connor's parents, Cynthia and Larry, find comfort with Evan, who, out of neediness and a desire to connect with Zoe, creates an elaborate mythology about his friendship with Connor, who is sentimentalized and sanitized into someone he clearly was not.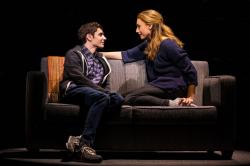 This turns the first act into something close to a "Dark Mirror" episode as the friendship between Evan and Connor becomes an internet meme — one in which the real reasons for Connor's suicide become lost in a fiction that has the best buds hanging at an long abandoned apple orchard. That the show maintains a balance between a heartfelt story of teen alienation and a dark satire on the Internet grief machine is something of an achievement; it is too bad that book writer Steven Levenson doesn't further explore Evan's duplicity in the second half, which dissolves into something closer to something seen on HBO on a Sunday night. (In some ways, it is the PG-13 cousin to the current hit "Euphoria.")

Of course, it would be hard to imagine the show turning out to be as successful as it has been if it had taken a darker turn; for "Dear Evan Hansen" to work as an emotional juggernaut, Evan needs to be sympathetic and quirky, not dark and weird, and his story needs to end in conciliation, not conflict. That Ross resembles Jesse Eisenberg in "The Social Network," both in his looks and mannerisms, underscores that "Dark Mirror" vibe when, with the help of the snarky Jared (Jared Goldsmith) and the social media-obsessed Alana (Phoebe Koyabe), he comes up with The Connor Project — a project aimed to draw attention to alienated teens like Connor. It even has an anthem — "You Will Be Found" — that stirs the emotions, but also rings a bit hollow given it grows out of a fiction.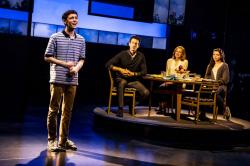 Like "Next to Normal" and "Jagged Little Pill," the show squarely brings the American musical into the 21st century's social and technological landscapes, the latter captured brilliantly with the use of monitors and projections on scrims that never let you forget that social media is always part of the action. (The sets are by David Korins, the lighting by Japhy Weideman, and the projection design is by Peter Negrini.) Much of its success comes with the appealing, pop-styled score by Benj Pasek and Justin Paul, whose songs — largely ballads and pop anthems — creep up on you, subtlety intruding in the narrative with little notice. It is also staged with speed and great care by Michael Grief, who has a keen understanding of the story's themes of teen alienation and family dysfunction, as well as the larger issues brought on when Evan and Connor become social media celebrities. There is a lot packed into the story — parents alienated from their children; teen bullying; class envy; even a central romance out of a John Hughes' movie, and Grief balances these elements beautifully.

And gets remarkable performances from his cast, most notably from Ross as the socially awkward Evan. He sings with a tender, supple tenor that fits perfectly with the Boy Band-like melodies that Pasek and Paul give him; and makes the audience complicit with his deceit, which is so necessary for the show to be successful. As his struggling Mom, Jessica Phillips ably conveys her concerns for her son's well being, as well as her own failings, expressed eloquently in the touching "So Big/So Small." Aaron Lazar and Cynthia Christiane Noll are equally fine as Connor's and Zoe's parents; Maggie McKenna convincingly conveys Zoe's conflicted nature and sings beautifully; and Marrick Smith turns the out-of-control Connor into a sweet baritone who haunts, then befriends Evan, echoing the fiction that Ethan and his co-conspirators want to continue. Those co-conspirators — Jared Goldsmith and Phoebe Koyabe — get most of the laugh lines for being completely inappropriate, and both are quite good at it.

That "Dear Evan Hansen" has become a cultural phenomena isn't surprising — it is a Zeitgiest musical that explores various social issues with compassion and insight. Its irresistible emotional pull will likely have you wiping your eyes more than a few times.
"Dear Evan Hansen" continues through August 4 at the Citizens Bank Opera House, 539 Washington Street, Boston, MA. For more information, visit the Broadway in Boston website.
Comments on Facebook