Catch the latest reports on your favorite (or not-so-favorite) celebrities at PopUps.
Out actor Luke Evans took to Instagram Monday to celebrate that he can "finally" see his abs, sharing a shirtless workout pic to his 2.3 million followers.
Chris Hemsworth's latest workout video is...a steamy one!
Jake Gyllenhaal took his relationship with his "Spider-Man: Far From Home" costar Tom Holland to a new level over the weekend.
Justin Bieber suggested a double date with his pal Cody Simpson, who is dating Miley Cyrus, before leaving a remark about the Australian singer's package.
Not long after their wedding ceremony, Justin and Hailey Bieber are sharing steamy pics from a new Calvin Klein campaign.
Lady Gaga isn't the most active pop star on Twitter so when she does tweet, fans freak out — especially when it comes to new music.
One of Judy Garland's daughters says she will not be seeing the new biopic about the late Hollywood icon starring Renee Zellweger.
It looks like Lana Del Rey has found a new love interest after splitting from rapper G-Eazy back in 2017.
Jessica Lange starred in four seasons of "American Horror Story" and recently made a return to the FX anthology series last year. But speaking with The Wrap, the Oscar-winning actor said she'll likely never return to the show.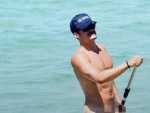 Orlando Bloom recently spoke with Howard Stern to discuss a number of topics, according to the British newspaper The Sun, and opened up about 2016 paparazzi photos of the actor that showed him fully naked.