Catch the latest reports on your favorite (or not-so-favorite) celebrities at PopUps.
A new Katy Perry era is upon us!
Rihanna reveals some new details about her forthcoming ninth album.
Ahead of the release of the Judy Garland biopic "Judy," Oscar-winning actor Renée Zellweger spoke with People magazine about playing the late icon.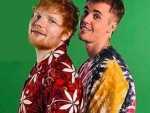 Though he recently said he was taking a step back away from music, Justin Bieber announced this week that he's teaming up with Ed Sheeran for a new single called "I Don't Care."
Jacki Weaver is responding to Anjelica Huston's interview in which she shaded "Poms," an upcoming movie starring Weaver, Diane Keaton and more.
Some folks may be happy Channing Tatum lost this bet.
Justin Bieber wants Fox News to fire its conservative host Laura Ingraham.
"Selling Sunset" is one of Netflix's newest reality show. It follows a group of real estate agents from The Oppenheim Group, which sells multimillion dollar homes in Los Angeles — think "The Hills" meets a wild HGTV show.
"Riverdale" star K.J. Apa is set to star in a faith-based film alongside Gary Sinise called "I Still Believe."
Justin Bieber is apologizing for his controversial April Fool's joke that some found insensitive.