Catch the latest reports on your favorite (or not-so-favorite) celebrities at PopUps.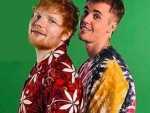 Though he recently said he was taking a step back away from music, Justin Bieber announced this week that he's teaming up with Ed Sheeran for a new single called "I Don't Care."
Jacki Weaver is responding to Anjelica Huston's interview in which she shaded "Poms," an upcoming movie starring Weaver, Diane Keaton and more.
Some folks may be happy Channing Tatum lost this bet.
Justin Bieber wants Fox News to fire its conservative host Laura Ingraham.
"Selling Sunset" is one of Netflix's newest reality show. It follows a group of real estate agents from The Oppenheim Group, which sells multimillion dollar homes in Los Angeles — think "The Hills" meets a wild HGTV show.
"Riverdale" star K.J. Apa is set to star in a faith-based film alongside Gary Sinise called "I Still Believe."
Justin Bieber is apologizing for his controversial April Fool's joke that some found insensitive.
It's no secret that Gus Kenworthy is a huge Shawn Mendes fan, but the Olympic skier just took his fandom to a new level.
Actor Taron Egerton may be new to Instagram but he sure knows how to keep his fans excited.
Not long after her split up from fiancé Christian Carino, Lady Gaga is getting close to actor Jeremy Renner, according to a report from Us Weekly.