1 thru 10 of 7287 Stories
One of Jussie Smollett's conditions after posting $10,000 bail amid charges he lied about being the victim of a racist, anti-gay attack was that he have no contact with two brothers police say he paid to help stage the incident.
A judge in Chicago has ordered the file in the Jussie Smollett criminal case unsealed.
A federal court has ruled that the husband of "Real Housewives of New Jersey" cast member Teresa Giudice can stay in the U.S. as he appeals deportation to his native Italy.
Rihanna, the first black woman in history to head up a major Parisian luxury house, is unveiling her first fashion designs for Fenty at a pop-up store in Paris.
James Bond is out of commission for a few weeks. Star Daniel Craig is undergoing minor ankle surgery after sustaining an injury while filming the 25th installment in the franchise in Jamaica.
Prosecutors have declined to file charges against actor Rick Schroder after an arrest on suspicion of domestic violence.
The Jonas Brothers are the latest celebs to participate in out comic Billy Eichner's "Billy on the Street."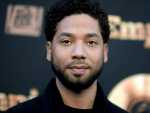 A former judge who wants a special prosecutor appointed in the Jussie Smollett case is back in court with new motions to obtain her goal.
The discovery of handwritten wills in the home of the late Aretha Franklin could ignite a dispute among family members about the estate of the "Queen of Soul."
Aaron Schock is back in the news for being photographed at a LA gay hang out with a Speedo-clad companion.
1 thru 10 of 7287 Stories