Watch: See Will Smith as the Blue Genie in New 'Aladdin' Trailer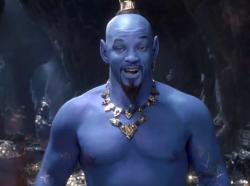 A new trailer from Disney's live-action remake of "Aladdin" is here and it features Will Smith as the iconic blue Genie, voiced by the late Robin Williams in the 90s animated version.

This is the first time fans are seeing Smith as the Genie. The trailer came during the Grammys Sunday night. Also featured in the clip is Mean Massoud as Aladdin, Marwen Kenzari as Jafar, Naomi Scott as Princess Jasmine, and the city of Agrbah.

Speaking with Entertainment Weekly, Smith said he promises to add a "hip-hop flavor" to his role as the Genie.

"Aladdin," directed by Guy Ritchie, hits theaters May 24. Watch the trailer below.
Comments on Facebook