Out On Film, Atlanta's LGBT film festival is one of the largest LGBT film festivals in the country, as well as one of the largest film festivals in Atlanta, Out On Film was recently named Atlanta's Best LGBT event by the readers of Georgia Voice. The recipient of a 2014 grant form the Academy of Motion Picture Arts and Sciences for its popular visiting filmmaker series, Out On Film has also received grants from Georgia Council for the Arts and the Fulton County Arts Council. Each year Out On Film screens close to a 100 films and brings in a variety of specials guests.to make the filmmaking experience a communal community event. http://outonfilm.org
"Sordid Lives" creator DEL SHORES is back with his hilarious stories about some of the wacky eccentrics he has met on the South
The self-centered family members at the center of "Before You Know It" may charm you before you know it. You might roll your eyes as they roll with the punches, but some squabbles pack emotional punch in the quirkiness-packed proceedings.
This campy gay slasher horror film from France is a sheer delight.
Ashley Joiner's documentary is an ambitious attempt to connect the dots, differences and intersections we live and love with
AJ Jankel's film adaptation of Fiuona Shaw's novel possesses a blend of innocence, mystery, and brutality that lends itself to complex stories about childhood, and children who get caught up in the cross-currents of adult lives.
The profile, with a comfortably relaxed pace that feels organized, offers plenty of articulate, warm first-hand recollections and opinions. Long shots of huge concert crowds underscore Holly Near's reach.
Jeffrey McHale's "You Don't Nomi" is a breathlessly detailed documentary about one of the most unfairly maligned movies in history, Paul Verhoeven's "Showgirls."
Paul Haggis and Dan Krauss turn their lens on a little-known — but deeply impactful — aspect of the AIDS crisis with their documentary about the first depicted AIDS ward and its long-term impact of medical care as a whole.
The mesmerizing journey of an undocumented trans girl in NY is the subject of this excellent movie produced by, and starring, over 50 members of the trans community.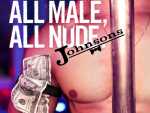 Hollywood portrayals of male strippers don't always depict real life, which is where filmmaker Gerald McCullouch comes in. He is back, shining a spotlight on some of South Florida's best male exotic dancers.