It may be some months before you can check Norway off your bucket list, but there are plenty of ways to experience this enticing Scandinavian country from your own home. Here are five ideas to get you started.
Luxury small-ship tour operator Aqua Expeditions will launch its first-ever online culinary masterclass designed to bring gastronomic magic from across Aqua's destinations to Americans isolated at home.
Some of the world's most significant cultural institutions are virtually opening their shuttered doors, letting all inside for a peek at art by and for the LGBTQ community.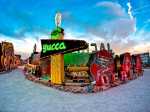 While The Neon Museum is temporarily closed due to COVID-19 safety measures, it offers several ways to #NeonMuseumFromHome and stay engaged.
The New York Botanical Garden is ensuring that visitors can still experience its beauty without ever leaving their homes.
Despite now being free to visit, people may find it more difficult than normal to enjoy them as parks close visitor centers, shuttles, lodges and restaurants to fight the spread of the coronavirus.
These art galleries provide a feast for the senses in some more-than-slightly-unusual venues.
The perfect daytime date — according to new research — is a walk in a park or botanical garden, a visit to the zoo or a river cruise.
WalletHub released its report on 2020's Best Frequent Flyer Program, which ranks the 10 largest domestic airlines based on 23 key metrics, ranging from the value of a point/mile to blackout dates for rewards flights.