Gay Chicago: The Latest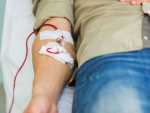 There's good news... sort of... for gay men in France who wish to donate blood: They will soon be able to do so after only four months of complete celibacy instead of a full year.
Nearly seven years since it ended, the teen drama "Gossip Girl" is making a comeback.
Charli XCX and Christine and the Queens have teamed up for a new song called "Gone," which will appear on the Charli's upcoming new album "Charil," and released the music video Wednesday.
The deadly Ebola outbreak in Congo is now an international health emergency, the World Health Organization announced Wednesday after a case was confirmed in a city of 2 million people.
Berkeley, California, has adopted an ordinance to replace some terms with gender-neutral words in the city code.
U.S. overdose deaths last year likely fell for the first time in nearly three decades, preliminary numbers suggest.
Is a peek into the future worth your privacy in the present? That concern was pushed to the spotlight this week with the resurgence of a smartphone app that uses artificial intelligence to transform your current face into your younger and older selves.
The average American only gets 10 nights of perfect sleep in a month, according to new research.
From Memorial Day to Labor Day, Americans will travel and have to deal with 19 bouts of hunger, 16 "are we there yets," 18 "how much longers" and 17 "I'm tireds."
If this basketball thing doesn't work out for Brad Stevens, he already has a backup plan in mind.
Going after four Democratic congresswomen one by one, a combative President Donald Trump turned his campaign rally into an extended dissection of the liberal views of the women of color.
Chicago, IL
"Wolf Play" is ambitious; it's brutally funny; it's difficult, ultimately bleak and consistently compelling for the entirety of its ninety-minute running time. In its Chicago premiere, The GIft Theatre offers an expert treatment in an intimate setting.
A documentary puts several human faces on something many would rather resist facing: Violence around the world, and how America, so-called "Land of Opportunity," isn't always that for those who come seeking sanctuary.
The agency overseeing California's legal marijuana market has been overmatched by the job and is struggling to hire sufficient staff and set an overall strategy for the nation's largest cannabis economy, an audit found.
The Democratic representative from Queens dwarfed the Democrats who are seeking President's job in a measurement of social media interactions with news articles by the tracking firm NewsWhip.

Here are four beach destinations where you could soak up the sun using points and miles.
Mercedes luxury at a Honda price point ? it's a tempting proposition. But is it the smarter choice? Edmunds looks at the pros and cons of buying a new non-luxury car versus a used luxury vehicle.
The martini's heyday began almost a century ago, but today's bartenders have some innovative takes on the classic cocktail.
Newly released federal data shows how drugmakers and distributors increased shipments of opioid painkillers across the U.S. as the nation's addiction crisis accelerated from 2006 to 2012.
Nine percent of Americans have been on vacation without their partner and lied to them about it.
San Diego held its LGBTQ Pride celebration at Balboa Park with four stages and over 100 performers and community activists.