Wolf Play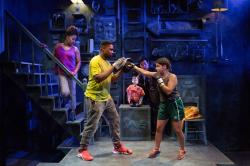 In trying to describe Hansol Jung's "Wolf Play", there's high risk of running out of adjectives. The play is ambitious; it's brutally funny; it's difficult, ultimately bleak and consistently compelling for the entirety of its ninety-minute running time. In its Chicago premiere, The GIft Theatre offers an expert treatment of it in an intimate setting.
The play opens with a dreamy prologue. The actor playing Wolf addresses the audience directly, as he will at various points, both with and without the puppet representing the eight-year-old Korean boy the world perceives Wolf to be. Wolf warns the audience that nothing is as they perceive it to be, yet urges us in achingly beautiful language to believe in the bonds of love and family, despite everything that is about to unfold.
The story, proper, begins with siblings Robin and Ryan decorating the former's San Francisco home with blue balloons to welcome the young boy she has "adopted" from an Arizona couple looking to ditch the Korean child whom they adopted before realizing they could have a biological child.
The "hand off" goes even more badly than one might think. Peter, the soon-to-be ex-father, mistakes Ryan for Robin's wife Ash, and is disturbed to learn the child he's dumping will be raised by two women. "Pete, Junior," is considerably older than "advertised," and it turns out that the decision to take him into their home was Robin's alone.
Wolf acts out in strange and violent ways that seem erratic, and who lack the benefit of Wolf's fourth wall — breaking commentary; but he eventually bonds with Ash and, more slowly and painfully, with Robin and even Ryan, to a lesser extent. Meanwhile, the audience gets glimpses of Peter's marital and parenting difficulties back in Arizona, as well as his attempts to contact Ryan for information.
Ash's growing bond with Wolf sparks realizations about her own identity and goals, which complicates both her relationship with Robin, and Ash's training (with Ryan) for her first professional boxing bout. Ryan's already shaky support for his sister's unorthodox family crumbles completely when Ash loses her bout, in part because an upset Wolf wanders into the ring. A second violent altercation between Ryan and Wolf leads the former to support Peter, who has left his wife and newborn, in his attempts to get the boy back.
If the plot sounds exaggerated, it never for a moment plays that way. Its most harrowing and heartbreaking moments are well-earned, and every bleak turn and moment of grace feels, at most, like slightly heightened reality, thanks to Jess McLeod's steady direction and the talent and investment of the cast.
Arnel Sancianco's scenic design is a beautiful, beautifully functional transformation of a small, challenging space. The theatre is a deep, narrow black box with the audience and the stage running the length of the room. Sancianco employs a staircase with space underneath at stage right and a small-footprint stage at center.
The upstage wall is bisected with a ladder and crowded with household objects, shelves, a stovetop and toys suggesting a child's room. On the stage are two upright chairs and two movable, large-format blocks that serve as a table, additional seating and so on. A scrim and a boxing ring — style microphone drop from the ceiling to accommodate rapid moves to other spaces, and the whole of the set is painted in oily, dully iridescent shades of teal and purple. The effect is dreamlike or menacing, as needed, facilitated by Mike Durst's excellent lighting design.
Eric Backus's sound design, which is expertly executed, is critical to keeping the play in the real world, even during its most impressionistic moments. From the sound of cereal hitting the bowl to the sounds of the boxing rings, the production carries the audience through these moments in the characters lives.
As Wolf, Dan Lin sets the tone and carries the play's emotional beats with expert care. Stephanie Diaz's design for the puppet version of Wolf emphasizes deeply expressive hands and face, rather than complex operation and Lin's decisions about how to use and engage with the puppet are also pitch perfect.
An equally interesting strength of the play is the fact that the other actors convey their clear, individual choices about interaction with Wolf's two incarnations. For example, as Ash, Isa Arciniegas maintains her focus on the puppet, and by extension, on the child Wolf is. This makes the more rapid development of her relationship with the boy understandable to the audience. Arciniegas is also impressive in conveying the sense that Ash is barely contained, coiled energy.
In contrast, as Robin, Jennifer Glasse always seems to look past the puppet Wolf, but also not quite at Lin. The exaggerated, slow way she speaks to Wolf is painfully familiar, and obviously doomed to keep pushing Wolf away. Glasse's restrained, people-pleasing manner with Peter, Ryan, and by phone with her estranged mother are equally familiar and believable, and she rides the line with great skill, keeping the character sympathetic and the audience rooting for this troubled family to make it.
Al'Jaleel McGhee (Ryan) and Tim Martin (Peter) both have the challenging task of playing characters whose attitudes and actions are rooted in lives lived as men. McGhee handles the wearying gender essentialism and low-key misogyny that builds to the play's climax adeptly. We never quite give up on him until the minute Robin does, which deepens the emotional impact immeasurably. Martin navigates both the white and the masculine privilege of his character skillfully as well, and to his credit, he remains even-keeled and, maddeningly, sounds reasonable even in his most awful moments.
"Wolf Play" runs through August 18 at The Gift Theatre, 4802 N. MIlwaukee Ave., Chicago. For tickets visit www.thegifttheatre.org or call 773-283-7071.
Christine Malcom is a Lecturer in Anthropology at Roosevelt University and Adjunct Faculty in Liberal Arts and Visual and Critical Studies at the School of the Art Institute of Chicago. She is a physical anthropologist, theater geek, and all-around pop culture enthusiast.
Comments on Facebook