Review: 'Dramarama' Drenched in Angst and Secrets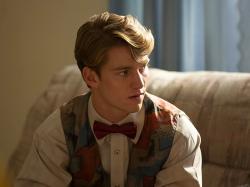 It's a party!!!! - albeit with party-pooping attendees. You're invited to ""Dramarama" as flies on their wall. Make "OK" your RSVP, but "Fasten your seatbelts: It's going to be a bumpy night," as was advised in the classic "All About Eve," which involved theatre folk.

This satisfying story does, too, except they're five teen-agers, bonded via work on school productions. Their other commonalities? Conservative, religious upbringing, and virginity. So, along with snacks and non-alcoholic drinks, sexual tension and teen angst are on the menu. Their sleepover, Victorian-themed costume party M.O. is staying in character, solving a murder mystery game.

They relish spouting lines from favorite scripts. It's their safety spot, a go-to happy place to avoid conversation and confrontation. Escaping into pre-written, pithy, polished prose and pre-ordained plot sure beats the overrated experience called moment-to-moment real life.

But play-acting has intermissions cued by simmering reality. Jealousies, resentments, anxieties, suspicions, and secrets abound, rearing their ugly heads. Apologies follow. Emotion is heightened by the looming separations - going off to college in far-flung places.

Jonathan Wysocki directs his own script with affection, making tightrope-walking, troubled teens sympathetic and real. The acting is nuanced, illuminating contrasting personalities: Anna Grace Barlow shines as likable host Rose; Danielle Kay rocks sass as brash Ally; Megan Suri is endearing as unsure, demure Claire; Nico Greetham is charismatic and dramatic as outwardly confident Oscar; Nick Pugliese is spot-on sensitive portraying burdened Gene. His woes get focus, weighing the risks of revealing his gayness and/or atheism. Zac Henri effectively brings the outsider's perspective as swaggering J.D., the dude delivering pizza and more - specifically, derisive and dismissive comments. They know him, but maybe don't know how unsettling his judgmental jabs can be.

Fragile friendships need care. "Dramarama" is drama-drenched. Come watch the sparks fly.
ROB LESTER returns to Edge in 2019 after several years of being otherwise occupied writing and directing musical theatre shows, working as a dramaturg, arts consultant, and contributing articles and reviews to various outlets. His long-running "Sound Advice" column covering cast albums and vocal CDs has been running regularly at
www.TalkinBroadway.com
for almost 15 years.
Comments on Facebook