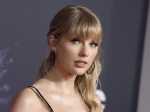 Taylor Swift announced Friday that the next album in her re-recordings project will be fan favorite "Red."
After more than a century, the glass ceiling may finally be shattering for Black queer women in the entertainment industry.
Poet and author Maya Angelou, America's first woman in space and a revered Cherokee Nation leader are among female trailblazers whose likenesses will appear on the U.S. quarter.
This dour story has layers of meaning just under the surface.
The Grammy-award winning singer is coming to his wife's defense and claiming designer Michael Costello fabricated direct messages from Teigen.