The Garden Left Behind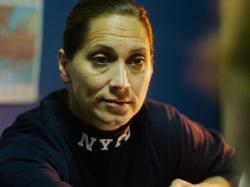 This new and completely mesmerizing movie from queer Latinx filmmaker Flavio Alves makes a crucial contribution to the continuing dialogue on transgender issues. "The Garden Left Behind" traces the relationship between Tina (Carlie Guevara), a young, Latina trans woman, and Eliana (Miriam Cruz), her grandmother. As they navigate Tina's transition, their struggle brings home the stark reality of trying to build a life as undocumented immigrants in New York City.

Alves co-wrote the story with John Rotondo, and, to make it even more authentic, in a groundbreaking move he involved 50 transgender actors and filmmakers in the process.

Aa an undocumented transgender woman, Tina has limited options for finding work, so she drives a cab whilst her grandmother stays home and keeps house. Each week she takes herself off to see a psychiatrist (Ed Asner) so that she can be evaluated to start the medical part of her transition. This takes time, and an impatient Tina rails at the fact that her future is to be decided by an elderly white man.

Tina does at least enjoy the friendship of a tight-knit band of girls in the trans community who not only offer her support, but persuade her to get politically active when one of their numbers is beaten up by the police. She also has a boyfriend in tow who around only infrequently, and only when it suits him; he disappears completely when Tina gets the OK to start transitioning.

What the movie so succinctly highlights is the many hurdles that a trans person must overcome, and, as in Tina's case, how devastatingly expensive it is when you must face it without the benefit of medical insurance. It also brings home sharply how patchy the level of acceptance of trans people is even in a metropolis like New York, where one would have thought there would be far less transphobia. It takes so much more strength and courage for trans people just to deal with their day to day lives.

Alves gets a remarkable performance from trans actress Carlie Guevara, who transfixes you to the screen in this, her debut movie. The reality of her finely nuanced portrayal of Tina — and how she imbues the role with a quiet but forceful passion — is impressive. Surrounding her with many Latinx and trans women of color makes the movie compelling, even though in the end the script just can't avoid the specter of violence that trans people endure in an almost daily basis.

Totally unmissable.
Roger Walker-Dack, a passionate cinephile, is a freelance writer, critic and broadcaster and the author/editor of three blogs. He divides his time between Miami Beach and Provincetown.
Comments on Facebook