Burn Down The House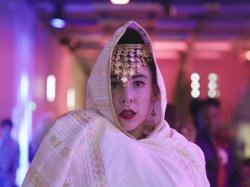 Come on, vogue. "Burn the House Down" is a brief glimpse into the personalities behind, and the preparations for, a queer immigrant dance show in Paris.

The 45-minute documentary, in French with English subtitles, follows the creation of the United States of Africa Ball by immigrant choreographers and dancers, whom even President Macron has sought out (the meeting is incredulously and gleefully recorded on social media).

In addition to vogue dancing, they also serve some similar, energetic arm movements called "waacking," a reclamation of the slam term for messed up, or "that is whack."

The group produces the show to "dance against" racism, homophobia and sexism in France. Member of this diaspora come from Algeria and Cameroon, and, between elaborate costume fittings, take on immigrant issues.

The Algerian woman talks about being called "a dirty Arab," and gives her partner a Berber tattoo, a tradition in her country with cosmetic and therapeutic meanings.

The personal stories and group rehearsals culminate in an explosive club experience.
Karin McKie is a writer, educator and activist at KarinMcKie.com
Comments on Facebook