The Kitchen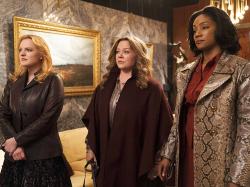 Available digitally today!

- - - -

In 2007, beloved character actress Margo Martindale played Ma Cox, mother to the eponymous music star in "Walk Hard: The Dewey Cox Story." I was reminded of this performance on multiple occasions during "The Kitchen," which finds Martindale playing another matriarch - this time to an Irish crime family who rule NYC's Hell's Kitchen in the late 1970s.

Both performances are parodies; the former obviously so, and the latter (most likely) inadvertently. In "The Kitchen," Martindale acts as if she's fully aware of the script's inherent ridiculousness, chewing the scenery so much that you may as well consider it a buffet. She's only in a handful of scenes, but her overcooked disposition is a characteristic that runs rampant throughout the entire film - in performances, writing, direction and everything in between. I'm not quite sure if this is what "The Kitchen" was going for, but it ends up being one of the funniest films of the year.

The movie follows three gangster wives - Kathy (Melissa McCarthy), Claire (Elisabeth Moss) and Ruby (Tiffany Haddish) - who take over their crime family's racketeering business when their husbands are sent to jail for years. The film wastes no time in kicking the plot into high gear. 10-something minutes in, the husbands are sentenced. 20-something minutes in, Kathy, Claire and Ruby are fully emerged in the extortion game. 30-something minutes in, they're chopping up bodies in a bathtub. 40-something minutes in, they're ruling all of Hell's Kitchen. You could time the entire film based on each ludicrous plot element it introduces.

Clearly, this is a movie that will draw comparisons to last year's Steve McQueen crime drama "Widows," but that'd be an unfair assessment. McQueen's work was silly in subtle ways, while "The Kitchen" sets spark to its absurdity like a fireworks display on the Fourth of July. Based on a DC comic book series by Ollie Masters and Ming Doyle, "The Kitchen" is adapted by Andrea Berloff, who writes and directs (her directorial debut, having previously penned scripts for films like "Straight Outta Compton" and "World Trade Center"). The screenplay is as goofy as they come, stealing from "The Departed" and "The Godfather" and [INSERT RANDOM GANGSTER MOVIE HERE]. The direction offers much to be desired in terms of original vision, but if there's one thing that can be said about "The Kitchen" is that it certainly isn't boring.

Rigorously entertaining yet stupendously dumb, this is a film that delivers in completely unintentional ways and is more enjoyable because of its flaws. Its needle drops are to die for, the highlight being when Elizabeth Moss shoots a man in the head and Fleetwood Mac's "The Chain" hits the soundtrack (a minute later, Moss is seen slicing a knife into a corpse on the downbeat before the chorus). We get cheesy forbidden romance, cat-and-mouse FBI clichés and plenty of superfluous Irish and Italian accents, all in the service of a film that attempts to be gritty and dramatic yet ends up diving into knee-slapping hilarity.

There are also the flaws that don't quite hit. The feminist themes of "The Kitchen" get lost in the muck of what it's ultimately saying: Because these three women were beaten down and sentenced to a life of baby-making and kitchen duty (Whoa! The title has a double meaning!), they obviously are just as vicious and violent as their husbands, right? Elizabeth Moss's Claire, who is used as a punching bag for the first act of the film, is the worst example of this mindset. Between the three women, she was violated the most by the man in her life. Therefore, she inevitably becomes the most ruthless, especially in terms of killing.

The film also tries to shoehorn some racial themes amongst a ridiculous twist in the movie's third act, but the sentiments become completely disarrayed in their misguided intent. There isn't a moment that passes in "The Kitchen" where you can't help but fathom everywhere the movie went wrong. But in its defects there are triumphs, making this the best kind of bad movie for casual, popcorn-munching enjoyment. "The Kitchen" is not a good film, but all be damned if I didn't have an absolute blast.
The Kitchen
Between 8th Ave. and the Hudson River, the Irish mafia runs 20 blocks of a tough New York City neighborhood known as Hell's Kitchen. But for mob wives Kathy, Ruby and Claire, things are about to take a dramatic and radical turn. When the FBI sends their husbands to prison, the three women take business into their own hands by running the rackets and taking out the competition.
Info
Runtime :: 102 mins
Release Date :: Aug 09, 2019
Language :: Silent
Country :: United States

Cast
Kathy Brennan :: Melissa McCarthy
Claire Walsh :: Elisabeth Moss
Jimmy Brennan :: Brian James
Rob Walsh :: Jeremy Bobb
Alfonso Coretti :: Bill Camp
Gary Silvers :: Common
Gonzalo Martinez :: E.J. Bonilla
Little Jackie Quinn :: Myk Watford
Duffy :: John Sharian
Burns :: Brian Tarantina
Michael Mariano :: Will Swenson
Maria Coretti :: Annabella Sciorra
Paul Hogan :: Bernie McInerney
Estelle :: Sharon Washington
Colin :: Matt Helm

Crew
Director :: Andrea Berloff
Screenwriter :: Andrea Berloff
Producer :: Michael De Luca
Producer :: Marcus Viscidi
Executive Producer :: Richard Brener
Executive Producer :: Michael Disco
Executive Producer :: Dave Neustadter
Executive Producer :: Aaron Gilbert
Executive Producer :: Jason Cloth
Executive Producer :: Elishia Holmes
Executive Producer :: Adam Schlagman
Cinematographer :: Maryse Alberti
Film Editor :: Christopher Tellefsen
Original Music :: Bryce Dessner
Production Design :: Shane Valentino
Art Director :: Anu Schwartz
Costume Designer :: Sarah Edwards

Comments on Facebook