Review: Beautifully Photographed, "And Then We Danced" Is A First-Ever LGBT Triumph For Georgia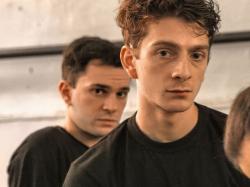 Swedish/Georgian filmmaker Levan Akin's third film, "And Then We Danced," is a heartbreaking coming-out story. It is also, probably, the first-ever LGBT drama ever made in the ultra-conservative country of Georgia. The film quite rightly won over international audiences at the Cannes Film Festival early this year  (where it was nominated for a Queer Palm), but has been met with a stony silence in Tbilisi, where it is still yet to be screened.

This is the story of Merab (Levan Gelbakhiani), a student at the National Georgian Academy of Dance. He may be one of the star dancers in his class, but that is still not good enough for his dour instructor, a man with an enormous chip on his shoulder who accuses Merab of being too passionate. He screams, "There is no sex in Georgian dance!"

Merab has been dancing since he could walk, and comes from a dysfunctional family of ex-dancers who almost became famous and who encourage him to succeed. His brother David (Giorgi Tsereteli) is also a member of the Academy, but he is much more into girls and getting up to mischief — a tendency that will end with a shotgun wedding for him.

One day there is a new student in class. Irakli (Bachi Valishvili) is not only a better dancer, he is as hot as hell. Initially, Merab is wary of him as the teacher gives the newcomer one of his own solo roles, but as both dancers have the habit of training very early in the morning they bond on a professional level. However, when an announcement is made that they are holding auditions for one coveted place in the senior corp, the two become rivals.

Since he was 10 years old Merab has been partnered with Mary (Ana Javakishvili), and they have been close friends ever since. Mary would like to take their relationship out of the friend zone, so one day she produces a condom by way of an invitation. She's too late, though: By then, Merab's relationship with the handsome stranger has already taken on a whole new dimension.

When the two men dance a duet together, their chemistry is electric. That connection only gets even more intense when they finally get physical together.  However, not only is this story set against a culture that is fiercely homophobic, but it is general knowledge that one of the members of the senior corp, whose sexuality was discovered, lost his job and almost his life.

Akin's finely-nuanced tale looks hard at a traditional society that is so rigidly handcuffed to the past that even the dancing must be executed exactly as it has been done for centuries before. The nation's ultra conservatism traps it in the past while the rest of the world has moved on: Just having a pack of European cigarettes is still considered a decadent luxury. 

With a vision of morality as restrictive as this, it is inevitable that Merab's sexual awakening cannot have a traditional happy ending. However, seeing the sheer exuberance of being in love for the very first time on the face of the talented newcomer Gelbakhiani means that at least it has been a joyous experience. It is a credit to Akin that he got such pitch-perfect performances from both his leading man, especially as they were making their acting debuts.

There is a wealth of coming-out tales, but this setting adds a fascinating insight to a society that seems years away from anyone being allowed any sense of personal freedom — especially anyone on the LGBTQ spectrum. Non-heterosexuals in this context take their lives in their hands if they want to be true to themselves.

If Akin's film is setting a standard for Georgian gay movies, then we cannot wait to see more, especially if they will also be so beautifully photographed.
Roger Walker-Dack, a passionate cinephile, is a freelance writer, critic and broadcaster and the author/editor of three blogs. He divides his time between Miami Beach and Provincetown.
Comments on Facebook