The holiday season is shining brightly during the pandemic as businesses pour money into extravagant light shows to spread cheer.
Gift exchanges may seem wasteful and impractical. But as social scientific research reveals, the costs and benefits of gift-giving aren't what they seem.
The 2021 official White House ornament honors President Johnson with its reproduction of a painting of the Blue Room tree the family had in December 1967.
Dan Levy partners with DoorDash this season to curate a gift list from businesses led by immigrants, people of color, and other underrepresented entrepreneurs.
These holiday shopping tips from budgeting and parenting experts can help you find what works for your family.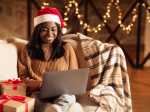 Here's what to do if you still have gifts left to purchase this month.
In their bigger and better holiday show, BenDeLaCreme and Jinkx Monsoon deck the halls with drag delirium.
The fabulous Rizo will bring her unique style of performing to a holiday themed show on the stage of the Great Star Theater in Chinatown on December 10 and 11.
The holidays are here and ready to celebrate in person. Opportunities to attend concerts and seasonal music events are plentiful, and most performance venues are back to full capacity.
The pandemic-induced supply chain snarls have created unprecedented shortages across all types of products for holiday gift-giving.