Gay Chicago: The Latest
"The Boulet Brothers' Dragula: Resurrection," the hybrid horror/reality competition/documentary feature is the first spin-off of the groundbreaking drag competition series "The Boulet Brothers' Dragula."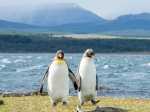 A pair of gay male penguins in a Netherlands zoo have appropriated eggs belonging to a lesbian penguin couple. It's their latest caper in a quest to become dads.
Steven Arauz, a teacher at a Seventh Day Adventist school, was fired when a publication about gay parenting identified him as gay.
To honor LGBTQ History Month, Todrick Hall has partnered with Orbitz to share some of his favorite queer locales throughout Los Angeles.
Pope Francis endorsed same-sex civil unions for the first time as pope while being interviewed for the feature-length documentary "Francesco," which had its premiere at the Rome Film Festival on Wednesday.
The upcoming queer Christmas romcom "Happiest Season," starring a number of out actors including Kristien Stewart and Dany Levy, will debut on Hulu next month instead of heading to theaters.
On her exceptional second album 'Eno Axis,' the North Carolina-based H.C. McEntire expands on the promise of her first record, delivering ten breathtaking songs on one of the best albums of 2020.
Twitter declared Chris Pratt "the worst" Chris in Hollywood, sparking his wife Katherine Schwarzenegger and fellow celebs to rush to his defense.
Secretary of State Mike Pompeo gave a speech to a group that promotes so-called "conversion therapy." Reports say his own staff were "appalled."
Supreme Court nominee Amy Coney Barrett served for nearly three years on the board of private Christian schools that effectively barred admission to children of same-sex parents and made it plain that openly gay and lesbian teachers weren't welcome.
"I just think that Trump doesn't understand addiction," said Diane Urban, 53, a Republican from Delphos, Ohio, who voted for the president in 2016 and whose son died from an overdose in 2019.
The long-gestating film adaptation of the Broadway hit "Wicked" has hit another snag. Director Stephen Daldry is exiting the project, a studio representative confirmed Tuesday.
Netflix's subscriber growth slowed dramatically during the summer months after surging in the spring fueled by pandemic lockdowns that corralled millions of people in their homes.
Microsoft Azure provides an ever-growing collection of services that ensure the success of businesses. Moreover, this leads to the opportunity for professionals to build an interesting and rewarding career.
President Donald Trump's sprawling political operation has raised well over $1 billion since he took the White House in 2017 — and set a lot of it on fire.

You've probably heard over the years a number of tips or myths regarding the value of your car. Edmunds' experts analyzed the most popular car value myths to find the truth behind them.
It's that time of the year again! In case 2020 isn't scary enough for you - here are five Halloween cocktails straight out of your nightmares!
As temperatures fall, people are spending more time indoors. That heightens the risk of the coronavirus spreading, but there are some simple steps you can take to help protect yourself and everyone around you.
Grab your weekender bag and get out of town. The leaves are turning, and there's a small window of time to take in Mother Nature's annual fashion makeover.
CBD Unlimited is a market leader within CBD industry. Better Products, Better You! Strive to Be Unlimited!
www.cbdunlimited.com