Topics :: pool party
Gay Days Anaheim held their Plunge pool party for those who needed a break from the hot California sun and wanted to enjoy the cool water, great music, cold drinks and hot Mermaid and Merboys!
It was the girls turn to have some fun in the sun as Key West Business Guild presented the Womenfest Kickoff and Pool party held at Alexander's Guesthouse.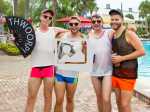 The Gay Days daytime pool party and Expo took place at Wyndham Orlando. Check out these great photos.
MGM resorts kicked off pool season with the 10th anniversary of Temptation Sundays at the Luxor Resort on the Las Vegas Strip. The steamy weather brought out hot bodies and cool drinks as everyone enjoyed hanging out at the Oasis pool next to the pyramid.
Many people came together to take the Plunge at Gay Days Anaheim's annual pool party. There was a pirate, mermaids, cool drinks and fun friends. Check out these photos.
Summer came to an end at Soaked! Hosted by Impulse Los Angeles, the beautiful weather brought all the hot guys out to the pool to celebrate this great event!
The fun continued in Key West with the Tropical Heat Splash Pool Party at Bourbon Street Pub and the Village People Traffic Light Party at Alexander's Guest House.
SummerTramp brought the hottest summer pool party to DTLA Proud, with the latest beats, sexiest bodies, and refreshing cocktails.
Check out the fun photos from the Key West Pride Pool Party at Island House.
The Equator Resort was the place to be for some fun in the sun during this year's Key West Pride.