Gay Chicago: The Latest
Brooklyn Beckham, son of retired soccer superstar David Beckham and fashion designer Victoria Beckham, and American actress Nicola Peltz have announced they're engaged.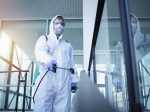 As the COVID toll climbs, sick workers and families of the dead face another daunting burden: fighting for benefits from workers' compensation systems that, in some states, are stacked against them.
As coronavirus rages out of control in other parts of the U.S., New York is offering an example after taming the nation's deadliest outbreak this spring — while also trying to prepare in case another surge comes.
Kelly Preston, who played dramatic and comic foil to actors ranging from Tom Cruise in "Jerry Maguire" to Arnold Schwarzenegger in "Twins," died Sunday, husband John Travolta said. She was 57.
The possibility for Russian same-sex couples to one day marry vanished on July 1 when voters approved a package of constitutional amendments, one of them stipulating that marriage is only between a man and a woman.
Polish President Andrzej Duda, a conservative who ran a campaign with homophobic and anti-Semitic overtones, narrowly won a second five-year term in a bitterly fought weekend election, defeating the liberal Warsaw mayor.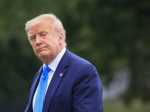 Presidential politics move fast. What we're watching heading into a new week on the 2020 campaign.
Voters in the nation's capital might face a November ballot initiative that would decriminalize psilocybin "magic" mushrooms and other natural psychedelics like mescaline.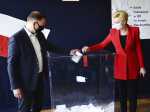 A late exit poll in Poland's presidential runoff Sunday showed the conservative, populist incumbent, Andrzej Duda, leading against the liberal, pro-Europe mayor of Warsaw.
Joe Biden won the Democratic presidential primary in Puerto Rico on Sunday.
Countries in Eastern Europe are facing rising waves of coronavirus infections, leading to riots in Serbia, mandatory face masks in Croatia and travel bans or quarantines imposed by Hungary.
The son of Lisa Marie Presley has died. He was 27.
The demand for mail-in ballots is surging. Election workers need training. And polling booths might have to be outfitted with protective shields during the COVID-19 pandemic.
President Donald Trump's administration is providing misguided assurances on the safety of kids in school during a coronavirus epidemic.

A COVID-19 vaccine will have an actual price tag. And given the prevailing business-centric model of American drug pricing, it could well be budget breaking, perhaps making it unavailable to many.
Used cars have historically been a smart alternative during an economic downturn. They don't depreciate as much as new cars and are less likely to overburden a buyer with a large loan.

Nobody could have dreamt months ago that the entire fashion industry would need to completely pivot to share their collections with the world. But that's precisely what they did.
Counselors focusing on Black trauma are offering free help, and Black churches are finding new ways to address suicide as social distancing has eroded how people connect.
Bridgeport's mayor is suing Delta Airlines over a dog bite he says he suffered on a flight.
San Francisco supervisors Thursday will take up proposed changes to how the city governs adult sex venues.