Gay Chicago: The Latest
Jane Fonda cemented herself into Hollywood allure as a chameleonlike actor and social activist, and now the Golden Globes will honor her illustrious career with its highest honor.
Months after Ellen DeGeneres was in the headlines for a toxic workplace controversy — and amid slipping ratings — Page Six is reporting that the future of her Emmy-winning daytime talkshow might be up in the air.
Twitter has permanently banned My Pillow CEO Mike Lindell's account after he continued to perpetuate the baseless claim that Donald Trump won the 2020 U.S. presidential election.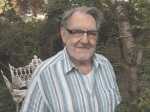 Pioneering AIDS researcher and clinician Joseph Sonnabend, 88, died January 24, 2021, at the Wellington Hospital in London, after suffering a heart attack on January 3, 2021.
Norway is fining gay dating app Grindr $11.7 million for failing to get consent from users before sharing their personal information with advertising companies, in breach of stringent European Union privacy rules.
Declaring "God is on your side," a Roman Catholic cardinal, an archbishop, and six other U.S. bishops issued a statement of support for LGBT youth and denouncing the bullying often directed at them.
The trailer for the new British miniseries "It's a Sin," which will debut on HBO Max on February 18, has just dropped.
Ellis is an out school teacher raising a five-year-old daughter with her partner in Vermont.
There's little doubt that a pic of Joseph Baena will bring to mind his famous dad — Arnold Schwarzenegger.
Chance Seneca has been arrested and charge with the attempted second degree murder of Holden White in Louisiana last year.
Transgender advocates in the U.K. are questioning changes to the census, which will ask Brits to declare their "legal sex" and not their gender identity.
Larisa Shepitko's award-winning World War II drama is now available on Blu-ray from the Criterion Collection, complete with a new 4K restoration and a slew of special features.
Investment bank Citi decided Monday to keep its sponsorship of Justin Thomas, condemning the anti-gay slur he muttered and requiring him to donate a "meaningful portion" of his deal as part of an active role in LGBTQ causes.
A vaccine passport "could be the golden ticket to rebooting travel," but how long will it take to get the double dose, and what technology is being developed to prove it?
A new feature profiles LGBTQ people who have broken into that elite club of millionaires and billionaires.
The CEO of Stellantis, the carmaker created from the merger of PSA Peugeot and Fiat Chrysler, said Tuesday that the tie-up will help preserve jobs, factories and the 14 storied brands.
"Sex and the City" catapulted the Cosmopolitan into the spotlight, but the show's star, Sarah Jessica Parker, wasn't a big fan at the onset according to a story she wrote for Grub Street.
Business owners hailed Gov. Gavin Newsom's decision to lift stay-at-home orders across California in response to improving coronavirus conditions, but local health officials expressed concern that it may cause residents to let down their guard.
A major winter storm blanketed parts of the middle of the country with snow that was forecast into late Tuesday in some areas, disrupting traffic and closing some coronavirus testing sites.
The owner of West Hollywood gay bar Faultline has confirmed an earlier report that the establishment has closed down its longtime location. The bar will hopefully reopen elsewhere in the future.