Gay Chicago: The Latest
Republican lawmakers in Wisconsin introduced two pieces of legislation that target trans student athletes at all levels of education, including elementary school, middle school, high school, and college.
Nathan Lane remembers his breakout role in "The Birdcage" via "The Last Laugh" podcast...now wishes he'd come out back then.
Dolly Parton has written hundreds of songs over her decades-long career and it turns out her tune "Jolene" is the just right one for getting her COVID-19 vaccine.
The Caribbean is hunting for visitors and vaccines to jump-start the stalled economy in one of the world's most tourism-dependent regions.
Joe Exotic of "Tiger King" fame has found new attorneys who say they plan to file a motion for a new trial in a matter of months.
Amy Poehler was never a Riot Grrrl. She says she wasn't cool enough to be part of the scene popularized by bands like Bikini Kill. But the spirit of the '90s feminist movement always resonated with her.
The variant of the coronavirus discovered in Britain is prevalent among Italy's infected schoolchildren and is helping to fuel a "robust" uptick in the curve of COVID-19 contagion in the country, the health minister said Tuesday.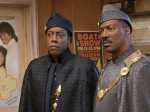 When Eddie Murphy made the original "Coming to America," he was, almost indisputably, the funniest man in America.
The National LGBTQ Task Force and the International Imperial Court System, two prominent LGBTQ organizations, have announced a campaign to call on the U.S. Postal Service to issue stamps honoring four influential LGBTQ trailblazers.
Officials at California community health centers that are considered the backbone of the safety net for the poor in the U.S. say they are not receiving enough doses for their patients — the very at-risk residents the state needs to vaccinate.
Slow off the blocks in the race to immunize its citizens against COVID-19, Germany faces an unfamiliar problem: a glut of vaccines and not enough arms to inject them into.
Like an old-fashioned western set on a distant planet, "Chaos Walking" is momentarily entertaining, but doesn't leave a lasting impression once you walk away from it.
San Diego Comic-Con will remain virtual for the July event, but organizers are planning for a smaller-scale gathering later this year.
Briotech, a global leader in HOCl technology and manufacturing, has created a multi-use product line with game-changing technologies in health and disinfection.
If President Biden has his way, he will create a public credit reporting agency (CRA) to compete with the three major credit bureaus and maybe one day replace them altogether.
The viral pandemic has triggered a cascade of price hikes throughout America's auto industry — a surge that has made both new and used vehicles unaffordable for many.
Whether you're alone or spending the day with your favorite leprechaun, here are 10 teasers to inspire you this St. Patrick's Day.
Some patients looking to reschedule annual physicals, wellness visits or other routine medical appointments long delayed by COVID-19 first may need to make time to find a new doctor.
Japan's 5,700 museums prove there's plenty to see and celebrate, including noodles, toilets and other unusual finds among the country's 47 prefectures.
Virgil's Sea Room, a queer bar that opened in 2013 in the Mission District of San Francisco, is permanently closing.