Gay Chicago: The Latest
A backlash against Colton Underwood is swelling with the announcement of an upcoming reality show about his coming out.
Before he began receiving hormone therapy eight months ago, Dylan Brandt felt insecure and out of place. Then the 15-year-old transgender boy started taking testosterone in August.
After he was elected mayor of Fall River, Massachusetts, at just 23 years old, it seemed Jasiel Correia's political career had nowhere to go but up. Prosecutors say in reality he was a fraud and a thief.
Sunday's Academy of Country Music Awards will feature some of the genre's biggest stars, though chart-toppers like Morgan Wallen and Luke Bryan won't be in the building.
Less than three months after former President Donald Trump left the White House, the race to succeed him is already beginning.
The need for masks continues to be a contentious issue. As the federal government doubles down on their importance, some states have thrown caution — and face coverings — to the wind.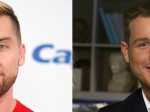 Lance Bass isn't having the Colton Underwood "Kumbaya" Moment.
A year after they last saw one another, Prince William and his brother Prince Harry put their fraught relationship aside as they said farewell to their grandfather at his funeral on Saturday.
Cassie Randolph made her first response to her ex-boyfriend Colton Underwood's coming out, while a NFL colleague says he knew of Underwood's coming out a week before his "Good Morning America" interview.
Amid mounting anger over allegations of bullying, out Broadway and Hollywood producer Scott Rudin broke his silence Saturday, saying he is "profoundly sorry" and will step back from his theater work.
Sharon Osbourne made her first public appearance since leaving "The Talk" after being accused of being a racist, and found a friend in talk show host Bill Maher.
This unmissable film is probably the saddest coming out story you will ever see.
Mickey's high-waisted red shorts and Minnie's polka-dot flared skirt with a sensible yellow heel won't be changing any time soon, but for Disney Park "cast members" (aka employees), new policies indicate that times are changing.
A British healthcare worker left his job as a medical assistant after six years to pursue a full-time OnlyFans career after receiving a one-percent raise.
Crypto rewards credit cards are the newest incentive-style payment option meant to reward users via the ability to earn cryptocurrencies. But how do they work and are they right for you?
How can you evaluate new gadgets in the typical 15- to 20-minute test drive if you don't quite know what they do or what to look for?
The pandemic has torn a multibillion-dollar bite out of the fabric of Europe's fashion industry, stopped runway shows and forced brands to show their designs digitally instead.
The CBD craze has taken root in many current lifestyle trends, but its benefits around our exercise routines prove to be some of the most surprising.
A new study says leaving middle seats open could give airline passengers more protection from the virus that causes COVID-19.
In certain circles of San Francisco, a case of syphilis can be as common and casual as the flu.