Houston Restaurant Customer Described as 'Fat, Gay' on Receipt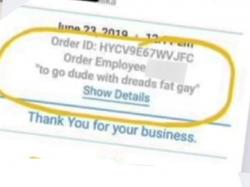 A Houston man spoke out after a server at a local restaurant described him on a receipt as "to go dude with dreads fat gay," reports a news clip carried by local news channel KTRK.
The customer had spent a few hours at Plush Daiquiri Bar and Grill on June 22. He saw the insulting description printed out at the bottom of his receipt, just above the line reading "Thank You for your business."
The customer, who wished not to be named, spoke out, decrying the characterization. "What's that like stereotyping? For her to not even know me and say 'fat, gay' and this and that," he told KTRK. The man added that he had "nothing bad to say about the restaurant," but the experience was so distasteful that he would not return.
Reached for comment, Marcus Barlow and Leighton Dickson said that the server had no idea the comments would be printed out on the receipt and said that she was trying to describe the customer so that he would receive the correct order. KRTK reported that the server was suspended for several days.
However, a subsequent article at Yahoo News updated the story and said that the server had been fired.
Newsweek also reported on the story and took note of how several instances of derogatory language have been spotted on restaurant receipts by customers, including an alleged incident in Mississippi in which a restaurant worker was let go after referring to women at a drive-through as "bitches," multiple instances of racial slurs at a pair of Smoothie Kings in North Carolina, and a Korean customer who took to Facebook to say he'd been called "Jackie Chan."
In a more low-tech incident reported late last year, a restaurant worker allegedly scribbled the word "fag" on a napkin and included the insult in a customer's takeout order. That worker was reportedly fired.
Not all slurs reported to have been hurled by restaurant employees have taken the form of comments printed out on receipts. Last month a pair of gay high school students said they had been tossed out of a lunch spot across from their school and told: "We don't want your kind." The teens said it was a worker at the establishment who harassed them.
Also last month, a gay couple were leaving an establishment on Long Island after having enjoyed dinner there when employees suddenly hurled anti-gay epithets at them in Spanish; the men took to social media to describe a scene of intimidation in which workers at the eatery "all laughed while they surrounded us" after a waiter hurled the slur.
Watch the KTRK news clip below.
Kilian Melloy serves as EDGE Media Network's Assistant Arts Editor. He also reviews theater for WBUR. His professional memberships include the National Lesbian & Gay Journalists Association, the Boston Online Film Critics Association, The Gay and Lesbian Entertainment Critics Association, and the Boston Theater Critics Association's Elliot Norton Awards Committee.
Comments on Facebook