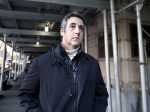 Special counsel Robert Mueller's office has issued a rare public statement disputing the accuracy of BuzzFeed News' report that said President Donald Trump's former attorney told Mueller that the president directed him to lie to Congress.
Former President George W. Bush treated his Secret Service detail to pizza to show his appreciation for their service without paychecks during the partial government shutdown.
President Donald Trump said he'll be making a "major announcement" on the government shutdown and the southern border on Saturday afternoon as the standstill over his border wall continues into its fifth week.
The Democratic chairmen of two House committees pledged to investigate a report that President Donald Trump directed his personal attorney Michael Cohen to lie to Congress about negotiations over a Moscow real estate project during the 2016 election.
The anti-LGBTQ school where Karen Pence is now working has a care package coming from The Trevor Project: 100 copies of a book about a gay bunny with the same name as the Pence family pet.
Vice President Mike Pence says the criticism of Christian education in America should stop.
Presidential candidate U.S. Rep. Tulsi Gabbard on Thursday responded to criticism about her past work advocating against gay rights by apologizing in a video.
A New Orleans school board member withdrew from consideration for the board presidency Thursday night amid a flurry of criticism over her record of resistance to protections for LGBT students.
The Washington, D.C, attorney general says a restaurant will be fined $7,000 for stopping a transgender woman outside a bathroom and asking for her ID.
She imperiled his State of the Union address. He denied her a plane to visit troops abroad.