New Poll: Most LGBTQ Americans Afraid to Show PDA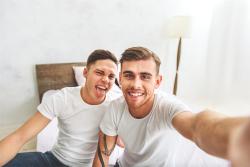 A new national survey conducted by Whitman Insight Strategies and BuzzFeed News has found that a majority of LGBTQ American respondents are at least somewhat afraid of violence or discrimination if they show affection with someone of the same gender in public. The survey, based on interviews with 801 LGBTQ people this month, is one of the most comprehensive of its kind in the US.

The survey also found that President Donald Trump has a 77% disapproval rating among respondents, mostly due to his record on LGBTQ issues. In a lighter mood, the survey also tackled the age-old "bachelorette party in gay bars" issue, finding that a majority of respondents don't think they should be prohibited.

On the question of public displays of affection, the researchers found that more trans people, (81%) are at least somewhat afraid to hold hands publicly, than other LGBTQ people. Only 15% of all respondents said they were not at all afraid of discrimination or violence for holding hands.

A strong majority (59%) of LGBTQ people reported being called slurs and an even stronger one (64%) reported having negative assumptions or offensive comments made about them because of their orientation or identity.

Check out the full survey findings at the link above to see the attached graphics and research methodology.
Comments on Facebook