Republicans for a half century have built a loyal following among white evangelical Christians. But Buttigieg is trying to demonstrate that there's a strong religiosity among Democrats, too.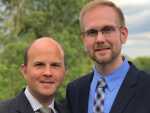 Catholic church leaders in Indianapolis are citing the First Amendment as a defense to a lawsuit filed by a teacher who was fired because he's in a same-sex marriage.
When Donald Trump assumed the presidency, conservative religious leaders drew up "wish lists" of steps they hoped he'd take to oppose abortion and rein in the LGBTQ-rights movement.
The Metropolitan Amvrosios of Kalavryta, a fiery conservative Greek Orthodox bishop known for criticizing, often in intemperate terms, those who he believed acted in a "non-Christian" / "non-Greek" way, including gays, migrants and politicians, resigned.
The Church of Jesus Christ of Latter-day Saints has issued a warning to members that coffee is prohibited no matter how fancy the name.
Phobes of a feather flock together: Franklin Graham has come to the defense of a Republican New Jersey mayor who sparked outrage when he declared that sexual minorities are "an affront to almighty God."
A 21-year-old transgender man says his private Tennessee college kicked him out after he got breast reduction surgery.
Muslim worshippers and Israeli police clashed Sunday at a major Jerusalem holy site during prayers marking the Islamic holiday of Eid al-Adha.
While the U.S. Catholic Church has been roiled by the child sexual abuse scandal for nearly two decades, Guam's faithful are still reckoning with new revelations from survivors long shamed into silence by men who claimed divine authority.
A Jesuit high school that the Indianapolis Archdiocese no longer recognizes as Catholic because it refused to fire a teacher in a same-sex marriage says it's appealing that decision to the Vatican.