Watch: Out Soccer Star Megan Rapinoe 'I'm Not Going to the F-ing White House'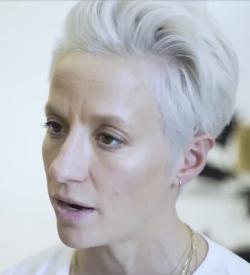 Megan Rapinoe, co-captain of the U.S. women's national soccer team, has long been a vocal critic of President Donald Trump's administration. As an out athlete, she is also a strong advocate for the LGBTQ community. She became the first female athlete to Colin Kaepernick's example when she knelt during a national anthem and has called herself a "walking protest" of the Trump administration.

Now, Rapinoe is making another stand against Trump. In a video interview, she said "I'm not going to the fucking White House. No, I'm not going to the White House. We're not going to be invited. I doubt it."





Her comments prompted President Trump to respond on Twitter, although initially to the wrong Megan Rapinoe. He has since replaced the account linked with the correct one. The controversy prompted President Trump to formally invite her, saying:
"We haven't yet invited Megan or the team, but I am now inviting the TEAM, win or lose."
The thread went on to talk about the NBA, black unemployment and how the "USA is doing GREAT!"





The next US Women's National soccer game is Friday the 28th. The American team will face off against France in the quarter-finals of the Women's World Cup.
Comments on Facebook