An openly gay server who said he quit his job at a diner over being called gay slurs will get a $20,000 settlement.
The Iowa Supreme Court has denied a request by the attorney for former Iowa Gov. Terry Branstad to stop a civil trial in which Branstad is accused of discrimination against a gay former state worker's compensation commissioner.
The attorney for former Iowa Gov. Terry Branstad has filed an unusual request to the state Supreme Court that seeks to stop a civil trial now in its third day, arguing rulings by a judge are unconstitutional.
A former employee of celebrated chef Thomas Keller is suing him and his three-star Michelin restaurants for discrimination, saying she was denied a job transfer and ultimately let go because she was pregnant.
Despite pushback from U.S. business, Mexico and Capitol Hill, President Donald Trump is doubling down on his threat to slap a 5% tariff on Mexican imports unless America's southern neighbor cracks down on Central American migrants.
Small businesses' cultures are becoming a bigger priority as more owners respond to the dramatically different expectations of a younger work force and a low unemployment rate and shrinking labor pool that make it harder to find staffers
Israel Folau's status as the unrivaled star of Australian rugby wasn't enough to save his job in the wake of a social media post that condemned gay people and other so-called sinners to eternal damnation.
Drivers for ride-hailing giants Uber and Lyft are planning to turn off their apps to protest what they say are declining wages at a time when both companies are raking in billions of dollars from investors.
A West Virginia assistant principal accused of harassing a transgender student won an appeal to get his job back Monday.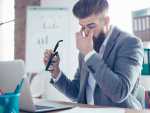 Have you had a less-than-stellar performance review lately? Do you daydream, or are you making bad decisions? It might not be about your job but about your sleep. And it's not all your fault.