Top Story
A beautiful day and the biggest crowd in history made this year's Boston Pride Parade and Festival one of the biggest events this year in the city.
Providence Pride weekend started with multiple clubs blocking off the streets so that everyone could party outside! EDGE visited The Dark Lady/Alley Cat, The Stable and The Providence Eagle's parties.
Music legend Richie Supa speaks candidly of the 60s and the era following the Stonewall Uprising where counterculture often led to addiction.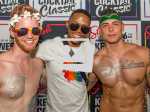 Key West celebrated Pride with the Stoli Kickoff party. There was also plenty more fun to be had at 801, Bourbon Street Pub and Aqua Nightclub.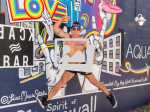 There certainly were some pool party shenanigans going on at Equator and Bourbon Street Pub during Key West Pride.
DC natives Lionize opened a packed show for with Wolfmother all the way from Australia for this East Coast tour show at the 9:30 Club.